You are here: Home > Great Northern Section > BN 6453
BN 6453
BN 6453 was built by EMD as Great Northern 423.
This SD45 was built as GN 423 in July of 1968 and delivered in GN's Big Sky Blue. It was one of the final group of nine SD45's numbered 418-426 that GN purchased before ordering F45's in 1969. Here is a photo of the 423 found on rrpicturearchives.
http://208.69.231.186/showPicture.aspx?id=2043932
I saw the GN 423 once, that was on 4-12-70 a little more than a month after the BN merger. I was on a day trip to Monroe, WA when I saw it on a BN eastbound arriving with an all GN consist of 423/731/661/734 (SD45/3 GP9's) and all 4 were Big Sky Blue. While at Monroe the 734 was set out and the train continued on towards Stevens Pass with just the remaining 3 units.
Eventually the GN 423 was renumbered BN 6453 and painted BN green.
That sets up the first time I saw the BN 6453 which was on 5-31-74. I was at Interbay during the late shift and managed the opportunity to hostle a few units that night in the engine facility with the help of the hostler helper. One was the 6453 and it would be the only ex-GN SD45 I would get to run myself which makes it kind of special to me.
Five years later on 5-24-79 I was at Interbay and photographed the 6453 in fresh paint.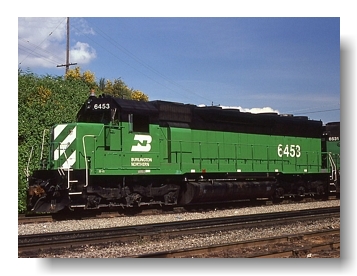 On 5-17-80 I was at Interbay again and found the 6453 and 6443 side by side in the engine facility, they are the ex-GN 423 and 413. All that was missing was the 6433 to make a sweep of "3"s.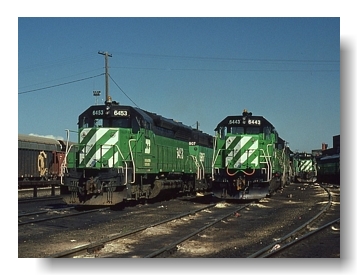 Oh, that locomotive on the right in the background? It IS the 6433 (ex-GN 403)! Too bad all three were not lined up side by side. I found one other photo of the 6453 online and it was taken in Missouri in 1981. The paint appears to have worn somewhat.
http://www.railpictures.net/viewphoto.php?id=463638
After BN retired the 6453 in August 1983 it was sold to CNW becoming the CNW 6572 in December 1983. I have only found one small thumbnail photo of the CNW 6572 (too small to be shown here) and it is still in BN green but with CNW markings. It was later traded into EMD 8/86 and sold for scrap closing the book on this ex-GN SD45.