You are here: Home > Great Northern Section > BN 6448
BN 6448
BN 6448 was built as Great Northern 418.
Built in July of 1968 GN 418 was the first unit of the final group of nine EMD SD45's numbered 418-426 that Great Northern purchased before ordering F45's in 1969. All nine SD45's of this order were delivered in Big Sky Blue and worked the main line between Minneapolis and Seattle.
Kevin Piper sent me a few photos from his collection of the GN 418 for use in this update. First is this roster shot of the SD45.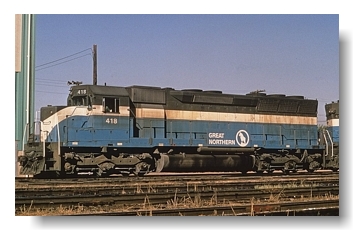 Kevin Piper Collection
And this photo of what looks to be westbound train #97 at Hillyard north of Spokane, WA.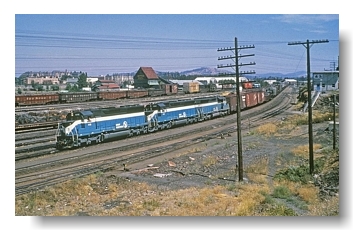 Kevin Piper Collection
I did see the GN 418 once but it was after the March 1970 BN merger. A westbound BN freight arrived at Interbay, WA 7-7-70 with GN 418/CB&Q 522/BN 6434, all three SD45's.
The 6434 was ex-GN 404 and still in orange and green.
The GN 418 had been renumbered BN 6448 the next time I saw it, which was on 7-19-72 at the ex-NP Auburn yard engine facility. BN 6446/6448/6639 (SD45/SD45/F45) were set to take train #90 east over Stampede Pass early the next morning. The 6446 was still in ex-GN orange and green and the 6448 still in Big Sky Blue.
Nine years later on 3-17-81 I photographed the 6448 at Interbay, by then in BN green paint.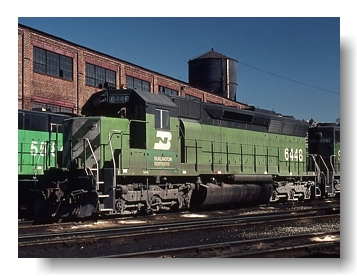 I just noticed that the 8 in the number board appears to be upside down. The 6448 had a little more then 2 years left when BN retired it 8/83. It was returned to the lessor and CNW purchased it in January 1984 and it became the CNW 6567. It was hastily relettered without repainting and entered service on the C&NW. This RailPictures.Net photo at Kansas City is from 1985:
http://mail.airdisaster.com/viewphoto.php?id=153255&showexif=1
The 6567 was repainted CNW yellow and green by the next year when Kevin Piper photographed it at Mason City, IA 3-1-86.
Photo by Kevin Piper
Used with Permission
The 6567 lasted on the CNW roster until the UP merger in 1995 when it was retired by UP 5/96, and was sent to E. St Louis, IL for scrap.