You are here: Home > Great Northern Section > BN 476
BN 476
BN 476 was built as GN NW2 5329 in September of 1941 and was delivered in the classic Empire Builder orange and green.
GN renumbered the 5329 to GN 129 during 1943.
The GN 129 was assigned to Lines east on the Willmar Division It was later painted into GN's Big Sky Blue.
After the 1970 BN merger the GN 129 was renumbered BN 476 and assigned to Minneapolis on the Twin Cities Region and later painted BN green.
The first time I saw the BN 476 was also the first time I photographed it. This was at BN's Stacy Street Yard in Seattle on 5-30-79.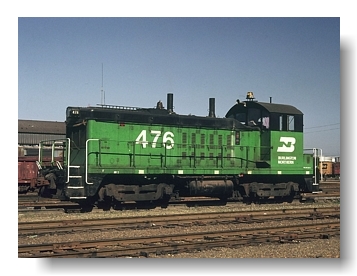 I photographed the BN 476 again on 11-11-80 getting the other side of the switcher at Interbay, WA.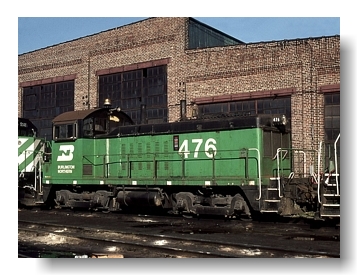 BN retired the 476 in July of 1982 and sold to Cargill 8/82 though I have been unable to find any info or photos of it working for Cargill so it's disposition is unknown.