You are here: Home > Great Northern Section > BN 475
BN 475
BN NW2 475 was built a Great Northern 5328 August 1941 and renumbered GN 128 in 1944.
It was delivered in the GN's orange and green Empire Builder scheme, later to the simplified scheme and finally Big Sky Blue. The Great Northern Color Pictorial Vol 2 shows the 128 assigned to Lines West - Spokane Division in 1969.
After the 1970 BN merger the 128 was renumbered to BN 475 and assigned to Hillyard. On a trip to Spokane on 8-4-71 I noted the 475 already in BN green paint. In the mid-70's the 475 was reassigned to Vancouver, WA.
I photographed the 475 working in Portland, OR on 5-3-80.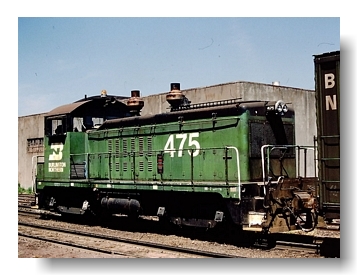 I photographed it one last time at Portland, OR in storage 7-18-82.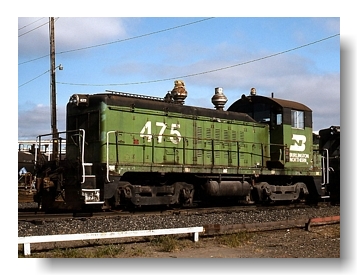 The 475 had already been retired in June 1982 when I saw it in July of 1982. It was sold to Simon and Sons in 1983 and scrapped.