You are here: Home > Great Northern Section > BN 455
BN 455
BN 455 is a former Great Northern NW2 built as the 5307 in April of 1939 and renumbered GN 107 in 1943. After an accident on May 20, 1956 at Bayside Yard in Everett, WA the 107 was repaired using the hood from an SW9 making it look different from all the other GN NW2's.
According to the GN Empire's website, the "Then and Now" section shows it received all four GN paint schemes, the last scheme it wore being Big Sky Blue.
After the 1970 BN merger the GN 107 was renumbered to BN 455 and was assigned to the Seattle Region working over in border in Canada. I first saw the BN 455 on 5-25-73 at Auburn, WA and it was still painted in the ex-GN Big Sky Blue.
My only photo of the 455 was taken in Seattle on 8-6-78 at Stacy Street Yard, well after being repainted into BN green.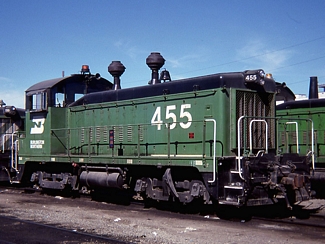 The 455 lasted until September 1980 when it was retired and sold to Hyman Michaels in April of 1981 and probably scrapped soon after.