You are here: Home > Great Northern Section > BN 1839
BN 1839
BN GP9 1839 was built as Great Northern 687.
After already taking delivery of GP9's 656-680 without dynamic brakes in 1954, GN ordered GP9's 700-703 with dynamic brakes in 1955.
In 1956 GN ordered additional GP9's with dynamic brakes 704-711 and seven without, 681 to 687. All were delivered in the classic Empire Builder scheme.
GN 687 was assigned to Lines West on the Spokane Division. It was repainted into the simplified orange and green and a photo of the 687 in the simplified scheme appears on Page 57 of the GN Color Pictorial Vol 2.
After the 1970 BN merger the GN 687 was renumbered BN 1839 and assigned to Hillyard in Spokane, WA.
I first saw the BN 1839 on 4-8-74 when GP9's 1839/1837 on a westbound freight met our eastbound Amtrak #8 at Spokane, WA while on a train trip to Livingston, MT. Both wore BN green paint.
In the early 1980's the Hillyard shops were closed and the motive power assigned there was reassigned elsewhere. The BN 1839 came west to Seattle's Interbay for maintenance.
On 7-21-88 the BN 1839 was working BN's Maltby Turn out of Stacy St yard in Seattle. Here the 1839 is preparing to head out for Renton with some Boeing Cars behind the GP9.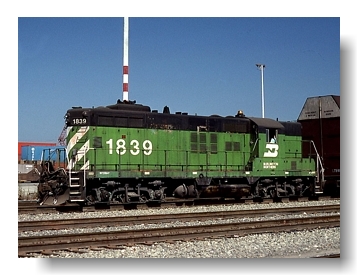 Later in the day I caught up to the Maltby Turn in Renton about ready to continue north after dropping off the cars for Boeing.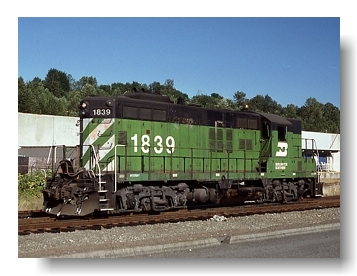 With the 1839 back on the train the Maltby Turn has left Scopa (named for Scott Paper Company) and is headed for Bellevue.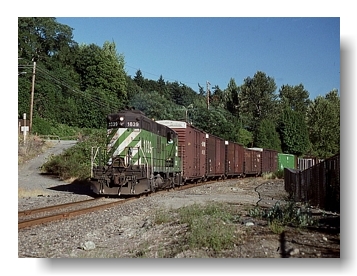 A few years later the BN 1839 was leading the Mobase Turn into Tacoma, WA 3-25-90.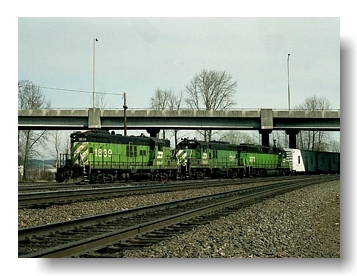 In April of 1992 the BN 1839 was sent to MK for rebuilding and October of that year sent back to the BN as GP28M 1513. It is pretty much a new unit from the frame up but some of what's below is still from the ex-GN GP9.
Since I have no photos of the BN 1513 and there are not many on the internet here is one I found on Trainpix. of the BN 1513 at Irving, TX in 1994.
http://archive.trainpix.com/bn/EMDRBLD/GP28M/1513.HTM
After the 12/1995 BNSF merger the 1513 remained BN 1513 into at least 2004 as this photo from rrpicturearchives at Joliet, IL shows:
http://www.rrpicturearchives.net/showPicture.aspx?id=37348
By 2005 it had been relettered BNSF 1513 but remained in BN green. It was spotted in Iowa, Oklahoma and stayed near Springfield, MO into December 2013. In August of 2015 the BNSF 1513 was seen at Vancouver, WA in fresh orange and black paint. From there it went to Pasco, WA where it seems to have found a new home.
I finally saw the BNSF 1513 at South Seattle, WA 7-6-16 on an M-SEAPAS train stuffed into a side track waiting for a crew to take it on to Pasco later. But it did give me a chance to get photos of the 1513.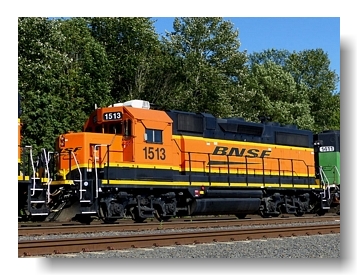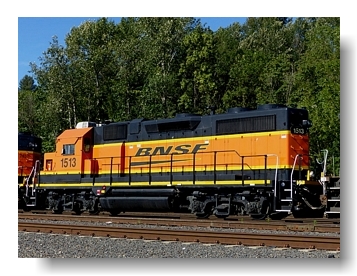 I did notice that the GN/BN GP9 air and fuel tanks between the trucks were removed and replaced with a larger fuel tank on the GP28M. It may not really look like the BN 1839 anymore but at least part of it still survives today.