You are here: Home > Great Northern Section > BN 1809
BN 1809
BN GP9 1809 was built by EMD in April 1954 as Great Northern 657.
GN's first GP9's were numbered 656-678 and were delivered in 1954. The 23 GP9's were painted in the classic Empire Builder scheme and were built without dynamic brakes.
The 657 was also repainted into the simplified orange and green. In 1969 the 657 showed being assigned to Lines West-Cascade Division.
My notes show I first saw the GN 657 at Interbay, WA on 8-20-69. There is a photo of the 657 in the Great Northern Color Pictorial Volume 1 on page 98 at New Westminster, BC 7-2-70, shortly after the BN Merger.
The GN 673 was renumbered to BN 1809 by 11-27-70 when I saw it at Interbay, still in orange and green but renumbered.
On 7-16-74 I photographed the BN 1809 at Interbay, still in the simplified orange and green scheme.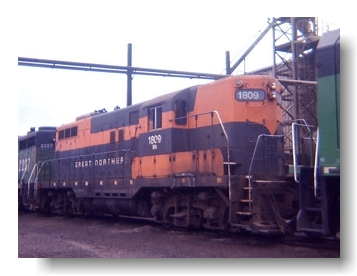 Though it was later painted into BN's green, I have been unable to find any photos of it. The 1809 was retired in January 1985 and sold to Central Montana Rail keeping the BN number but was repainted with blue replacing the green. There are some photos of the CM 1809 on rrpicturearchives:
http://www.rrpicturearchives.net/LocoPicture.aspx?id=186837
Looks like Montana is the place to go to find the 1809. May have to plan that later in 2016.