You are here: Home > Great Northern Section > BN 1551
BN 1551
BN 1551 was built as Great Northern GP7 651 in June of 1951. The 651 was part of a series numbered 623-652 and delivered in the classic Empire Builder scheme.
The GN 651 was assigned to the Willmar Division - Lines East.
After the March 1970 BN merger the GN 651 was renumbered BN 1551 and assigned to Minneapolis Jct on the Twin Cities Region.
I recently purchased a slide of the BN 1551 on eBay and noted it was still in the classic GN Empire Builder colors when the photo was taken on 5-19-73.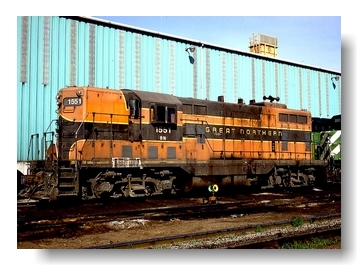 Photographer and location unknown
Brian Ambrose collection
The 1551 was later painted into BN's colors and stayed assigned to the eastern end of the BN until retired in August of 1982 and sold to a shortline in the south.
The 1551 first went to the Ogchee in Georgia with photos of it found here with the last photo taken in 2005:
http://www.rrpicturearchives.net/LocoPicture.aspx?id=5631
The 1551 next went to the Heart of Georgia as the HOG 1807.
http://www.rrpicturearchives.net/LocoPicture.aspx?id=126381
The GP7 apparently still survives today but photos show it being stripped of parts so its days of operating are probably done. The last photo was taken 10-1-16 at Americus, GA. Though old and worn it looks to be pretty much in once piece.