You are here: Home > Great Northern Section > BN 2208
BN 2208
BN GP30 2208 was built as the GN 3008 in April of 1963. GN bought 17 GP30's numbered 3000-3016 and all were from the same 1963 order and delivered in simplified orange and green.
Two GN GP30's were painted into Big Sky Blue before the BN merger and the 3008 was one of these. (the other GN 3005) This photo of the GN 3008 comes from the collection of Kevin Piper. The location is Hillyard, WA 10-68: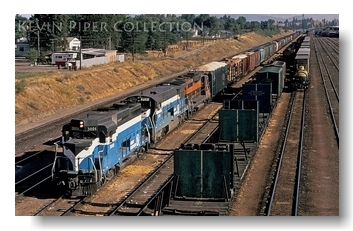 Kevin Piper collection
Photographer unknown
After the March 1970 BN merger the GN 3008 was renumbered to BN 2208 and assigned to Havre, MT for maintenance. This photo at Denver, CO 3-21-71 shows the BN 2208 still in Big Sky Blue.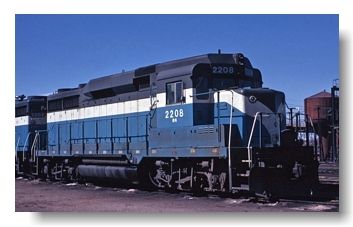 Brian Ambrose collection
Photographer unknown
I first saw the BN 2208 leaving Auburn, WA 12-12-71 for Stampede Pass on train #174. The train's consist consisted of the following units 5741/6305/2208/2508/748/714/1629 (U33C/SD40/GP30/GP35/F7A/F7A/GP7).
My notes say the 2208 was still BSB.
The 2208 was later painted BN green and I did not see it again until 10-31-79 when I photographed it in a four unit helper set leaving Skykomish, WA for Stevens Pass. Always nice seeing a forrner GN unit on the former GN main line.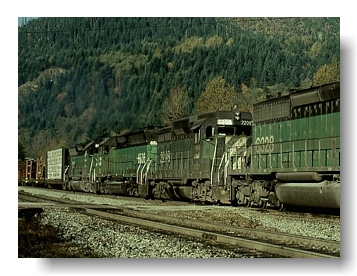 The BN 2208 was later involved in a head on collision at Naismith, MT 4-25-85 and was scrapped. A photo and short description of this collision can be found at the bottom of the page of this website called Danger Ahead:
http://danger-ahead.railfan.net/accidents/montana/home.html