You are here: Home > Great Northern Section > BN 2201
BN 2201
BN 2201 was built as the Great Northern 3001 in April of 1963.
The GN 3001 was the second of seventeen GP30's built for the GN, all from the same order and worked primarily on the transcontinental main between the Twin Cities and Seattle. The GP30's were the first to be delivered in the simplified orange and green scheme. They were also the first low nosed units delivered to the GN. In 1969 all of the GP30's were assigned Lines West Montana Division Havre, MT shops for maintenance.
After the March 1970 BN merger the GN 3001 was assigned to Interbay and soon renumbered BN 2201.
On 12-4-71 I was at Auburn, WA and noted a northbound freight headed for Seattle behind the 2201/1854/4255 (GP30/GP9/C425) with the GP30 still in ex-GN orange and green.
The 2201 continued to be assigned to the Pacific Northwest and was eventually painted BN green.
I photographed the 2201 at Interbay on 6-21-78 in BN green paint probably more than a few years old.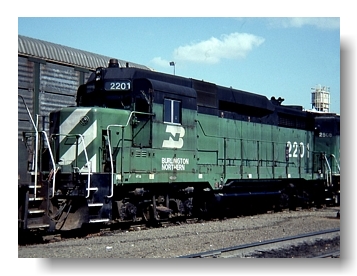 Less than two years later the BN 2201 was destroyed in a tragic derailment.
A BN Extra North with units 6467/6514/831/2201 (SD45/SD45/F9B/GP30) was struck by a mudslide 20 cars back from the locomotives on 1-19-80 near Ridgefield, WA. The slack ran in scattering 19 cars and all four units. The two SD45's slid down an embankment to a lake. The F9B and GP30 also ended up on their sides but apparently stayed up near the ROW. The 2201 suffered considerable damage as did the 831 and both were eventually scrapped. Sadly a car of ammonia ruptured and the engineer and head brakeman were overcome by toxic gas and later died.
On 5-3-80 I photographed the remains of the 2201 at Vancouver, WA.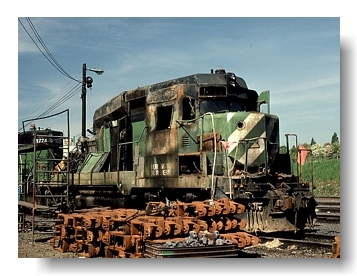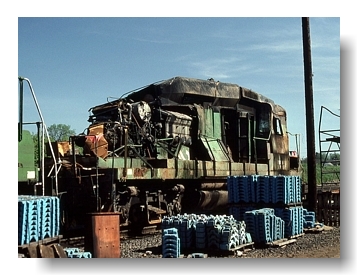 The 2201 was officially retired 9/80 and scrapped by the BN.