You are here: Home > Great Northern Section > BN 849
BN 849
BN 849 was built as Great Northern F9B 472C in February 1954, one of six F9B's ordered by the GN. All six were delivered in the Classic Empire Builder scheme.
The GN 472C was later repainted into the simplified Empire Builder scheme.
I first saw the 472C at Interbay, WA 10-17-69. At that time the 472C was assigned to the Cascade Division - Lines West. It was also the only F9B assigned to this Division.
I again saw the GN 472C right after the 1970 BN merger at Skykomish, WA working in a Stevens Pass helper set 3-14-70 consisting of GN F-units 460A/472C/458C/468A, the 472C the only unit in orange and green, the other three were Big Sky Blue. The 472C, soon to become the BN 849 was still assigned to Western Washington, at the ex-GN Interbay facility.
First time I saw the BN 849 was on 11-26-71 on a northbound freight in Seattle led by 2510/806/849 (GP35/F9A/F9B) and the 849 was noted as already in BN green paint.
This photo of the 849 was taken at Interbay 8-12-77. That paint from 1971 has gotten pretty ratty and rust is showing on the metal panels.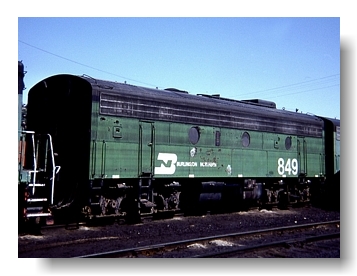 Less than a year later on 5-18-78 I again photographed the 849 at Interbay but it has been repainted and the three portholes are gone.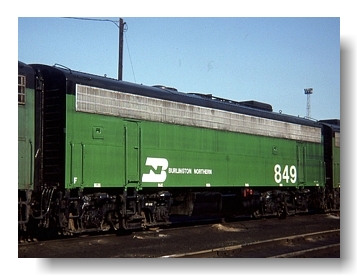 Here is a photo of the 849 as middle unit in a helper set at Skykomish, WA 10-31-79. It had just helped a westbound over Stevens Pass. This helper set was all ex-GN, the 1772/849/1795 (GP9/F9B/GP9).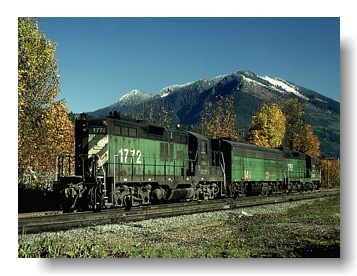 I found the 849 back at Interbay on 6-28-80.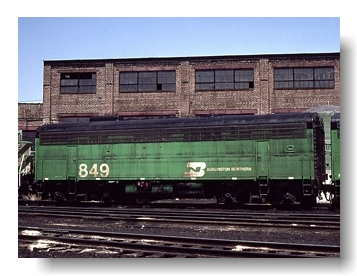 My final photo of the 849 shows it on southbound train #139 at Argo, WA 3-20-81. #139 that day had units 6432/2533/849/2524/2075 (SD45/GP35/F9B/GP35/GP38)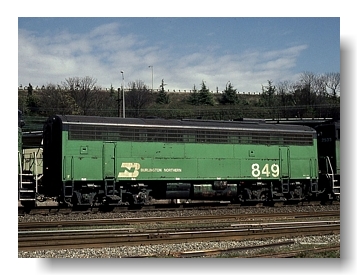 The 849 was retired 8-1-82 and traded to GE the next month on a B30-7A order. As there is no further info after that it is probably safe to say that BN F9B 849 was scrapped.