You are here: Home > Great Northern Section > BN 6610
BN 6610
BN 6607 was built as GN F45 437 in July of 1969 and delivered in Big Sky Blue paint.
I saw the GN 437 right after the BN merger on 6-15-70 at Interbay. It was probably the last GN F45 I saw before the 14 GN F45's were all renumbered to BN. The GN 437 was renumbered to BN 6610 and assigned to Havre, MT where it saw service with the other F45's in Transcontinental freight service.
Here is a photo of the BN 6610 at La Grange, IL 10-1-70 still wearing BSB paint from railpictures:
http://www.railpictures.net/viewphoto.php?id=52706&nseq=1275
It was later painted BN green and continued to see service mainly between Chicago and the west coast.
My only photo of the 6610 was taken at Portland, OR on 7-18-82, still showing Havre as its maintenance point.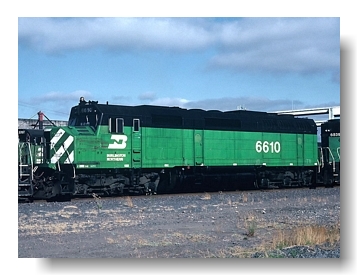 BN retired the 6610 in June of 1984. Four ex-GN F45s, 6609-6612, were purchased by Canadian National in February 1985 for parts. 6610 and 6612 were scrapped in 1989 while the other two lasted a bit longer before they too were scrapped,