You are here: Home > Great Northern Section > BN 676
BN 676
In 1948 Great Northern ordered one set of EMD F-units. The A-B-A set of F3's were numbered 306A-B-C and they were delivered in the Classic Empire Builder scheme and went right into freight service.
In 1952 the three units were renumbered 458A-B and D and a new F7B (458C) was purchased that year to complete a 4 unit A-B-B-A set.
The 458A kept the Empire Builder scheme until it was repainted Big Sky Blue and in 1969 was noted assigned to the Spokane Division - Lines West.
At the 1970 BN merger the 458A was renumbered 676 and kept the Sky Blue GN paint for many years.
For the record this is the disposition of the entire 4 units set:
GN 458A to BN 676
GN 458B to GN Heater car 16 in 1967, to BN Heater car 16
GN 458C to BN 677
GN 458D to BN 678
The BN 676 was assigned to Interbay after the merger but one of the first times I saw the 676 was at Cashmere, WA on 2-6-71 after riding a BN Passenger Special to Cashmere an eastbound went by with BN 678/684/677/690/676 up front, an A-A-B-A-A set of ex-GN F-units. And note three of the five came from the GN 458 set!
There were quite a few times in 1972 I also saw the 676 working in helpers sets out of Skykomish over Stevens Pass.
Here is a great photo of the BN 676 taken at Interbay on 6-19-73 by Ron Hawkins. Note the orange and green door on the side off an ex-GN F-unit!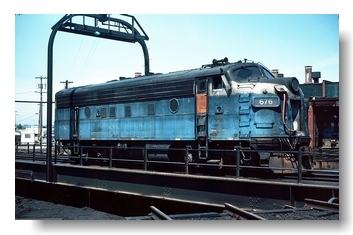 Photo by Ron Hawkins
Used with Permission
My own first photo of the 676 came on 6-14-74 also at Interbay. Note on the Instamatic slide said "fresh paint"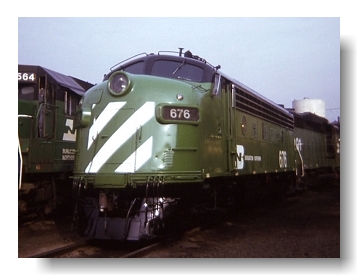 Another "Instamatic Encounter" came four years later on 6-4-78, again at Interbay.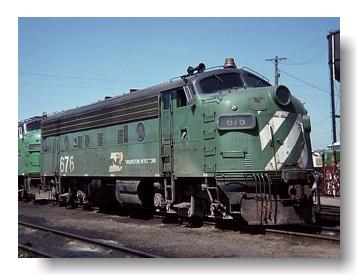 On 8-17-78 I saw the 676 again at Interbay but this time the nose MU connection can be seen with the cover open.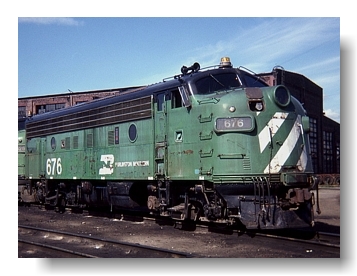 On 7-20-79 the BN Ferndale Turn had a sideswipe collision with another train at Mukilteo, WA between Seattle and Everett and one of the units on the Ferndale Turn was the 676 and it suffered sheet metal damage. The F3A was towed back to Interbay and I photographed it on 7-23-79 outside the roundhouse.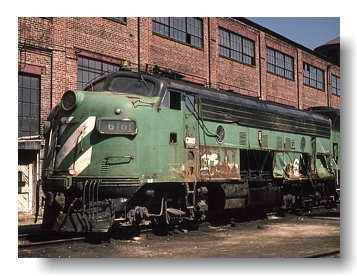 It was a surprise when the 31 year old F3A was repaired and returned to service! Here it is at Interbay on 2-12-80. Note the portholes are removed and the lettering is nearly gone as well! But it sure is clean!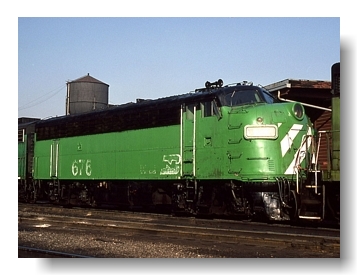 The 676 was not in service very long. By early summer it was in storage at Auburn, WA 6-30-80 along with other ex-GN F-units.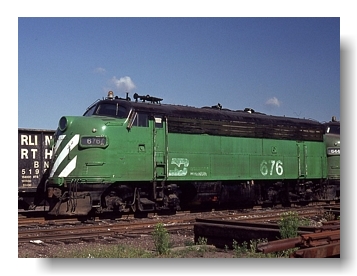 My last photo of the 676 came on 8-24-80, again at Auburn, WA. Note someone showed some mercy by reapplying the 676 number and BN emblem on this side.
The 676 was retired officially by BN in December of 1980 and sold to PNC who apparently scrapped it. Sad it survived a collision in 1979 but not the scrappers torch.