You are here: Home > Chicago, Burlington and Quincy Section > BN 5662
BN 5662
BBN U28C 5662 was built 4-66 as the CB&Q 574. The GE produced 2800 HP. The 574 was one of 16 U28C's numbered 562-577 the Burlington Route had built in 1966. After the BN 1970 merger the CB&Q 574 was renumbered to BN 5662 and was assigned to Lincoln, NE for maintenance.
I first saw the BN 5662 on a westbound BN train with units 5663/5662/5703 (U28C/U28C/U33C) arriving at Interbay in Seattle, WA 6-15-70 after a trip over Stevens Pass. Both the 5663 and 5662 still wore CB&Q colors at the time.
Here is a great photo from rrpicturearchives showing the 5662 in St Paul in 1972, still in CB&Q Chinese Red:
http://www.rrpicturearchives.net/showPicture.aspx?id=3776092
By 1975 the 5662 was assigned to Glendive, MT.
On 5-31-78 I photographed the 5662 at Interbay, WA after completing another run over Stevens Pass. This was at a time that the BN's U-boats were released to general service with a lot of them coming into the Pacific Northwest. Note that the nose lights have been plated over.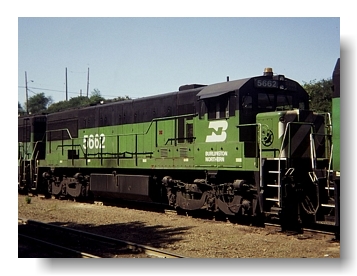 I photographed the BN 5662 one last time on 3-2-80 leaving Auburn, WA at 1:05 PM on eastbound X-08 headed for Stampede Pass with units 6539/5662/6383/738 (SD45/U28C/SD40-2/F7A).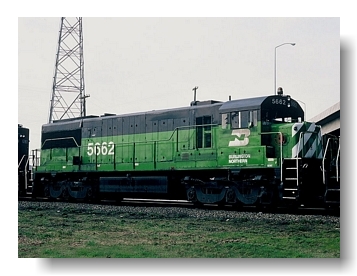 With more and more SD40-2's coming online and a downturn in traffic all the U25C's and U28C's started to be sidelined and stored in late 1980. The 5662 was officially retired 11/81 and sold to Naporano and soon scrapped.