You are here: Home > Chicago, Burlington and Quincy Section > BN 5650
BN 5650
BN GE U28C 5650 was built as the CB&Q 562 in February of 1966. It was the first of 16 U28C's built for the Burlington Route that year numbered 562-577.
I only saw one CB&Q U28C and that was the 562 on 7-21-70 (after the BN merger) at Easton, WA and it had not yet been renumbered. The BN eastbound had units 2542/CB&Q 5625611/6437 (GP35/U28C/U25C/SD45).
The 562 was later renumbered to BN 5650 but I would not see it until 10-17-79 on westbound #3 at Index, WA with units 6616/6478/6506/5650 (F45/SD45/SD45/U28C).
I photographed the 5650 at Auburn, WA nearly 3 months later on 1-28-80 as it sat outside the NP diesel house waiting to head east. Power was 6385/C&S 906/5650/5752 (SD40-2/SD40-2/U28C/U33C).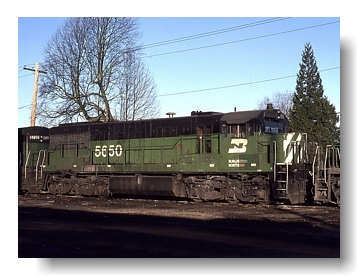 The 5650 was soon placed in storage and retired by BN one year later in January of 1981. It was reportedly sold to Simons and Sons in Tacoma, WA and scrapped.