You are here: Home > Chicago, Burlington and Quincy Section > BN 5455
BN 5455
BN 5455 was built as the CB&Q 111 in December of 1966 as part of the Burlington's second and final order of GE U28B's numbered 111-115. CB&Q purchased ten 2800 HP U28B's in all and they tended to work out of Lincoln, NE. Here is a photo from rrpicturearchives showing the CB&Q 111 in service.
http://www.rrpicturearchives.net/showPicture.aspx?id=818806
After the March 1970 BN merger the CB&Q 111 was renumbered to BN 5455 and continued to be assigned to Lincoln. First time I saw the BN 5455 was at Hillyard on the ex-GN at Spokane, WA 8-5-71. It was in BN green paint so it may have just been repainted as Hillyard was one of BN's paint shops.
I never photographed the 5455 myself but there is good photo of it on the Don Ross groups website taken at Irving, TX.8-2-81 surrounded by a lot of ex-Frisco red and white.
http://donsdepot.donrossgroup.net/dr0001/bn5455.jpg
The 5455 was retired 8/86 and sold to St Louis Auto Shredding who sold it to Transkentucky Transportation in May 1987 where it became TTI 258. On a trip to Kentucky in 1993 I photographed the 258 on a road set of U28B's at Paris, KY 4-27-93.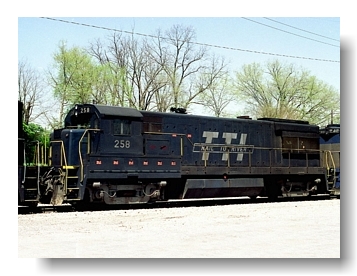 This photo from rrpicturearchives shows the 258 at Paris, KY 1-16-09 not looking too good.
http://www.rrpicturearchives.net/showPicture.aspx?id=1660624
All but one of TTI's U28B's are retired and it is possible the 258 has already been scrapped.