You are here: Home > Chicago, Burlington and Quincy Section > BN 5453
BN 5453
BN 5453 was built as CB&Q 109, one of five GE U28B's built in October 1966 for the Burlington Route numbered 106-110.
After the BN merger the CB&Q 109 was renumbered to BN 5453 and assigned to Lincoln, NE for maintenance.
I first saw the 5453 at Skykomish, WA 10-31-79 on train #74 with units 6515/6907/5453/5456 (SD45/SD40-2/U28B/U28B) I also took a rear end roster photo of the U28B leaving.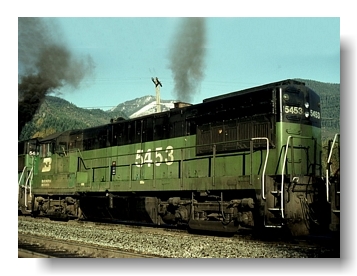 Here is a photo from Trainpix showing the BN 5453 in Iowa from 1980.
http://archive.trainpix.com/bn/GE/U28B/5453.HTM
The 5453 was retired by the BN in August of 1986 and later sold to the Transkentucky Transportation as tTTI 257 and painted TTI blue Here are photos of the TTI 257 from rrpicturearchives with the last photos apparently showing it being used as a parts donor for other TTI GE's.
http://www.rrpicturearchives.net/LocoPicture.aspx?id=5313
The last photo shown was taken in 2015. There is no info after that indicating if the ex-CB&Q U28B is still intact or has been scrapped.