You are here: Home > Chicago, Burlington and Quincy Section > BN 5636
BN 5636
BN U25C 5636 was built 9/65 by GE as CB&Q 556 and delivered in Chinese red paint. There were twelve 2500 HP U25C's built in 1965 for the Burlington Route numbered 550-561.
After the March 1970 BN merger the CB&Q 556 was renumbered BN 5636 and was assigned to Mississippi St in the Twin Cities Region along with most of the other U25C's that came from the NP and CB&Q. A main assignment for them was iron ore service out of the Mesabi Range until replaced by newer SD40-2's.
There are some good photos of the 5636 on rrpicturearchives, two still in CB&Q colors in 1975 worth checking out:
http://www.rrpicturearchives.net/locopicture.aspx?id=84950
By the late 1970's the old U-boats were released to general service and that was when I first saw the 5636 at Interbay 7-6-78. There were actually 3 U25C's there that day, the 5622, 5634 and 5636.
My only photograph of the 5636 was taken 3-14-79 when it was paired up with SD45 6450 on a helper set working over Stevens Pass and that was a rear end roster shot.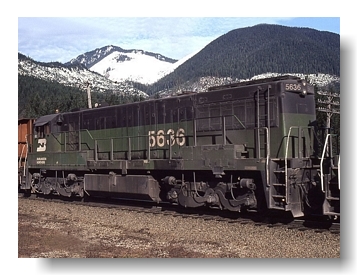 Just as new SD40-2's replaced the U25C's in ore service newer SD40-2's put all the U-boats in storage by the end of 1979. The 5636 shows as being retired in August of 1980 and returned to the lessor, then sold to Naparano 9/80 where it was scrapped.