You are here: Home > Chicago, Burlington and Quincy Section > BN 5634
BN 5634
BBN U25C 5634 was built for the Burlington Route as the CB&Q 554 in September of 1965 part of a single order of 11 U25C's CB&Q picked up that year numbered 550-561. All were delivered in Chinese red.
After the 1970 BN merger the CB&Q 554 was renumbered to BN 5634, and fairly quickly. A page from the Easton OS book for May 27, 1970 shows the BN 5634 leading a late night westbound at Easton, WA on the ex-NP headed for Stampede Pass and Auburn.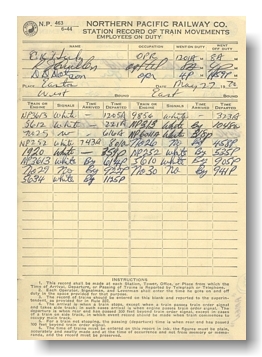 I saw the 5634 at Auburn, WA 8-10-70 after coming off Stampede Pass on a westbound. It was noted as still in CB&Q paint.
By 1973 the 5634 was repainted BN green as this photo at Joliet, IL on Railpictures from 1973 shows.
http://www.railpictures.net/viewphoto.php?id=482996
I photographed the 5634 at Interbay 3-24-79. Note that it still has it's nose mounted lights intact. It does not have a roof mounted warning flasher so the nose light may still work.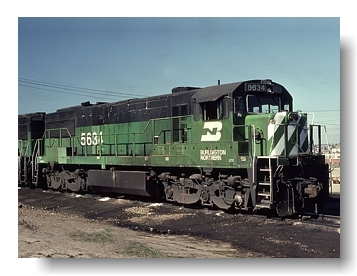 One more photo of the 5634 was found on trainpix.com showing it at Pasco, WA in May of 1979.
http://archive.trainpix.com/bn/GE/U25C/5634.HTM
BN U25C 5634 was soon stored and then retired by the BN in August of 1980, sent to Naporano in New Jersey the next month and scrapped.