You are here: Home > Chicago, Burlington and Quincy Section > BN 5632
BN 5632
BN U25C 5632 was built 8/65 by GE as CB&Q 552 and delivered in Chinese red paint. It was the third of twelve 2500 HP U25C's built in 1965 for the Burlington Route numbered 550-561.
After the March 1970 BN merger the CB&Q 552 was renumbered BN 5632 and was soon assigned to Mississippi St in the Twin Cities Region along with most of the other U25C's that came from the NP and CB&Q.
By the late 1970's the old U-boats were released to general service and that was when I first saw the BN 5632. I stopped by the ex-NP shops at Auburn, WA the afternoon of 4-25-79 and photographed the 5632 there after it had arrived west off of Stampede Pass, having lead the Cle Elum Turn from Auburn to Cle Elum and back.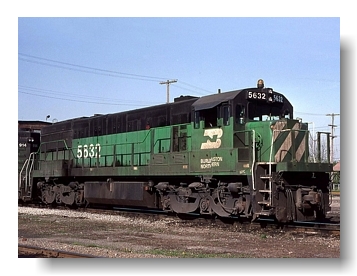 While it looks like a standard U25C notice the large anti-climber on the front. Not really standard for an older U-boat. The CB&Q lights on the short hood have also been removed and plated over.
Motive power on the Cle Elum turn that day was 5632/C&S 914/845/703/1783 (U25C/SD40-2/F9B/F3B/GP9).
I have the register books from Easton, WA and it shows the 5632 on 4-25-79 passing through Easton eastbound that morning heading for Cle Elum at 0830 (though the engine number was transposed as 6532) and again heading west stopping at Easton from 1015 to 1030 on its way back to Auburn. The enlarged portion of the register sheet shows the 5632 westbound.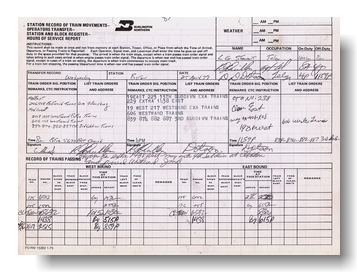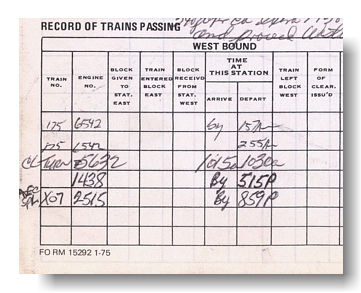 Interesting to see the 5632 mentioned on paper from the same day I photographed it.
The 5632 was not in service much longer and was soon in storage with additional new SD40-2 arriving on the BN. It is shown as being retired in August of 1980 and returned to the lessor, then sold to Naparano 9/80 where it was scrapped.