You are here: Home > Chicago, Burlington, & Quincy Section > BN 6457
BN 6457
BN 6457 was built in January of 1969 as CB&Q 516, the first of the Burlington Route's 15 SD45's numbered 516-530.
This photo of the CB&Q 516 comes from the Deane Motis collection, the image was taken by Karl Henkels at Cicero, IL in 1969.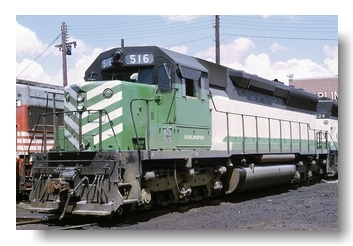 Photo by Karl Henkels
Deane Motis Collection
After the 1970 BN merger the CB&Q 516 was renumbered BN 6457 and assigned to Havre, MT.
Here is a photo by the late Stan Lytle of the BN 6457 at Interbay, WA in 1973 from the LocoPhotos site.
http://www.locophotos.com/PhotoDetails.php?PhotoID=45586
The 6457 was retired by the BN 2/84 and sold to the CNW becoming the CNW 6576 in July of that year.
In June 1994 the 6576 was sold to NRE and it was rebuilt to SD40M-2 SP 8612 on 9-8-94.
http://www.railpictures.net/photo/11173/
After the Union Pacific took over the SP in 1996 the 8612 became the UP 4658 and on 1-21-04 assigned UP 2688. Here is the UP 2688 at Seattle's Argo yard 3-27-08, this photo by Jon Bentz.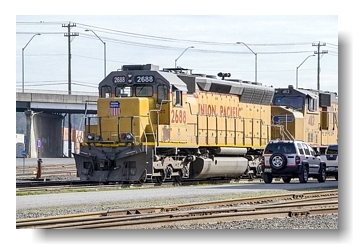 Photo by Jon Bentz
Last information has the 2688 in storage at Paducah, KY in June 2015 and lettered as NREX 2688.
Thanks to Deane Motis and Jon Bentz for the use of photos from their collections in this update.