You are here: Home > Chicago, Burlington, & Quincy Section > BN 3039
BN 3039
BN 3039 was the last GP40 built for the CB&Q as the 639 in February of 1968. It was also the last of a group numbered 620-639 all delivered in Chinese Red.
Here is one photo of a brand new Q 639 taken at Denver, CO in April of 1968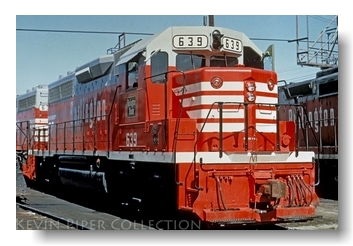 Photographer unknown
Kevin Piper collection
After the BN merger the Q 639 was renumbered to BN 3039, again the last GP40 in the series 3000-3039 and assigned to the Chicago Region at Clyde.
I never saw the 3039 but I did find one good photo of it from 1981:
http://www.rrpicturearchives.net/showPicture.aspx?id=4596764
The BN 3039 never made it to the BN rebuilding program as most of the other CB&Q GP40's did but was retired in April of 1984 and scrapped in August of that same year. No mention of being involved in a wreck so it may have been retired for some other reason.