You are here: Home > Chicago, Burlington, & Quincy Section Section > BN 2531
BN 2531
BN 2531 was built by EMD as part of order 7711 in April of 1964 as CB&Q 985, one of four GP35's numbered 982 to 985.
Here is a photo of CB&Q 985 leading a train found on RR Picture Archives.
http://www.rrpicturearchives.net/showPicture.aspx?id=1568388
After the BN 1970 merger the CBQ 985 was renumbered to BN 2531 and those GP35's numbered BN 2530-2545 were soon reassigned out west to Vancouver, WA.
Here is a photo from the BN Photo Archives site of BN 2531 at Pasco, WA on 8-14-71 still in CB&Q colors.
http://archive.trainpix.com/BN/EMDORIG/GP35/640X400/2531.JPG
First time I saw the 2531 was on 11-21-71 at Interbay, WA in a GP35 set of 2531/2534/2517, the first two in ex-Burlington colors and the 2517 in BN green.
The 2531 was later painted BN green and saw all kinds of service including local service on the Maltby Turn many years later as seen here at Scopa north of Renton, WA 6-12-88.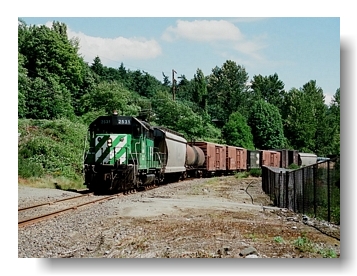 Two years later In June 1990 the 2531 was retired and sent to EMD for rebuilding emerging as BN GP39E 2907. Most of the photos I have found of the BN 2907 are from other parts of the BN system such as Wisconsin and Mississippi but I did photograph it at Tacoma, WA after the BNSF merger on 10-17-99. Note the American Flag.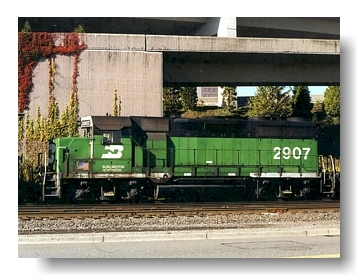 The BN 2907 was relettered to BNSF 2907 in July of 2001.
On 8-18-09 I caught a pair of former CB&Q units (ex-GP35/GP40) at Balmer Yard in north Seattle with the 2907 up front, and note the American flag had been removed.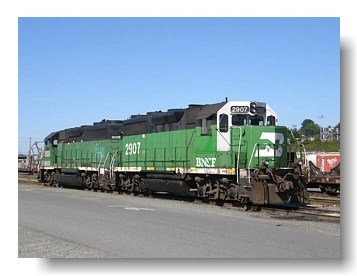 And a good view of the 2907.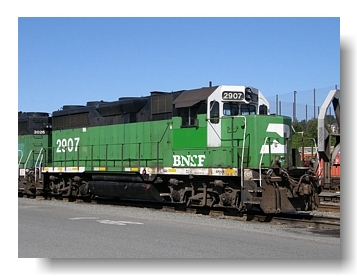 While at Auburn, WA 5-27-11 the 2907 came out onto the Stampede Sub for a switching move where I took this rear end shot of the GP39E.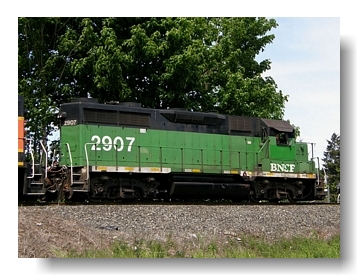 And one last photo of the 2907 taken on 7-26-14 at Centralia, WA shows it is still green as of 2014.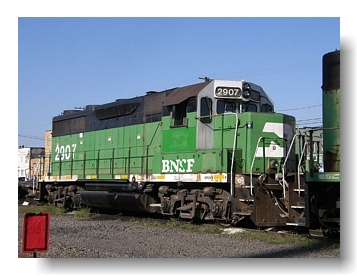 Being built in 1964 this GP35 carbody is a few months more than 50 years old now. It has held up quite well!