You are here: Home > Chicago, Burlington, & Quincy Section Section > BN 2529
BN 2529
BN 2529 is ex-CB&Q GP35 983 built in June of 1964.
At the time of the BN 1970 merger it was renumbered BN 2529 and assigned to Superior, WI. By 1975 it was assigned to Lincoln, NE.
On 12-10-77 I was at Black River, WA and saw BN train #176 being detoured over the Milwaukee Road. The train left Renton at 4:20 PM eastbound with units 4262/2529/2500/843/845/708 (C425/GP35/GP35/F9B/F9B/F7A). So this was the first time seeing the BN 2529, seven years after the merger.
I photographed the 2529 leading train #137 at Argo, WA on 6-8-83.
On 8-1-87 Crew 8 was photographed westbound between Maple Valley and Renton, WA with the BN 2529/2557 up front.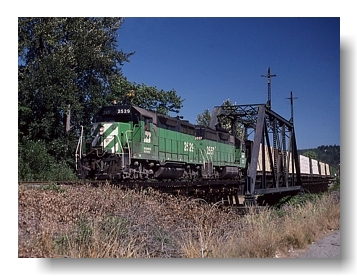 Here is a roster shot of the 2529 at South Seattle 9-26-87. Note that Parkwater (Spokane, WA) is stenciled on the side sill for maintenance.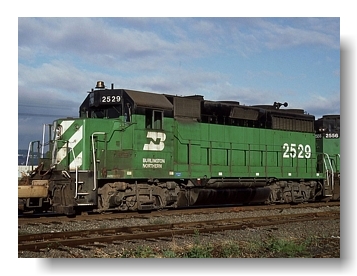 This roster photo shows the other side of the GP35 at Tacoma, WA 10-4-87.
And one last photo shows the BN 2529 leaving Tacoma, WA on 9-9-89 with a stack train headed for Seattle.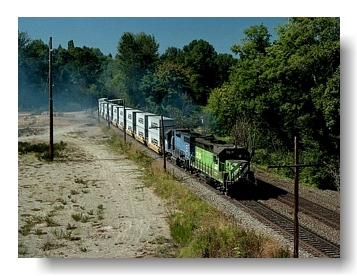 Less than a year later BN 2529 went to EMD and was rebuilt to GP39E 2940 in August of 1990. Here is the 2940 at Alliance, NE 6-3-92, still looking good in fresh paint.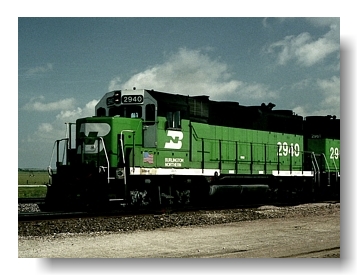 After the 1996 BNSF merger the 2940 was relettered BNSF but has kept the same number. The last photo I have been able to find of the 2940 was taken in 2011 at Northtown, MN and still wearing BN green. Nothing any more recent than that. Makes me wonder where it has been for the last 5 years.