You are here: Home > Chicago, Burlington, & Quincy Section Section > BN 2524
BN 2524
BN GP35 2524 was built 12-63 as CB&Q 978.
CB&Q 978 was the first GP35 of 21 purchased by the Burlington Route numbered 978-999. The first order delivered in 1963 was for just 4 units, 978-981.
A few photos of the CB&Q 978 can be found on rrpicturearchives here:
http://www.rrpicturearchives.net/LocoPicture.aspx?id=113425
After the March 1970 BN merger the GP35's 978-999 were renumbered BN 2524-2545 with the 978 becoming BN 2524.
I first saw the BN 2524 on 12-30-70 leading a westbound train into Auburn, WA off of Stampede Pass, that consist being the 2524/5674/5723/818 (GP35/U28C/U33C/F9A) and the 2524 was still in CB&Q colors.
By 1972 the 2524 was assigned to Superior, WI.
Here is a photo of the BN 2524 at St Paul in 1973 from rrpicturearchives:
http://www.rrpicturearchives.net/showPicture.aspx?id=615698
The 2524 was reassigned to Lincoln, NE by 1975.
When I photographed the 2524 in Seattle in 1981 it showed being assigned to Vancouver USA.
BN GP35 2524 at Argo, WA in Seattle on 3-20-81.
Again at Argo on 10-12-81. It was this photo that showed Vancouver USA marked on the side sill.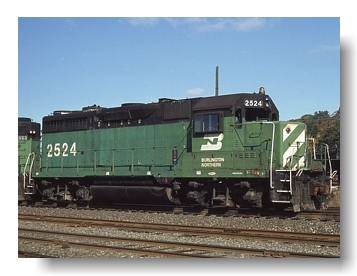 On 4-22-82 the BN 2524 led southbound train #137 out of Seattle with four GP35's (2524/2530/2503/2523).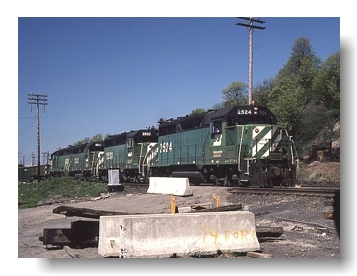 Leading northbound train #112 at Tacoma, WA 6-15-85 (2524/2078/2536/SP 8231/SP 9193).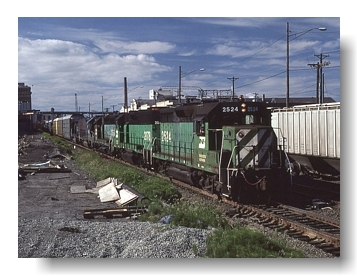 One more photo showing the 2524 leading is this southbound Crew 8 out of Seattle with doublestacks for Tacoma on 6-3-89.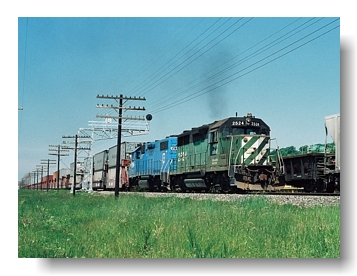 The following year the 2524 went to EMD for rebuilding to a GP39E and was completed 3/90 as the BN 2913.
I never saw or photographed the 2913, one reason being the 2913 was assigned to Springfield, MO as shown in the 1992 BN motive power annual. There are a few photos of the 2913 on rrpicturearchives however:
http://www.rrpicturearchives.net/LocoPicture.aspx?id=44548
After the BNSF merger it was relettered BNSF 2913 in April 2001. Again never saw or photographed it. There are photos of the BNSF 2913 here:
http://www.rrpicturearchives.net/LocoPicture.aspx?id=22223&Page=1
In November 2011 BNSF sold the 2913 to Watco who repainted and renumbered it to WAMX 3914. All of these photos of the WAMX 3914 show it working in Kansas:
http://www.rrpicturearchives.net/LocoPicture.aspx?id=173355
So if anyone wants to see the former BN 2524, they'll have to go to Kansas, which may not be a bad idea as there appears to be a lot of former BN power on WAMX.