You are here: Home > Chicago, Burlington and Quincy Section > BN 2249
BN 2249
BN 2249 was built as CB&Q GP30 972 in June of 1963.
After the 1970 BN merger the Q 972 was renumbered BN 2249.
BN 2233-2254 were all assigned to Lincoln, NE so I rarely saw any of these ex-CB&Q GP30's out west.
I recently purchased a slide on eBay of the BN 2249 in CB&Q paint. The slide had no info on it however such as the photographer, date and location but it does show the GP30 in Chinese Red.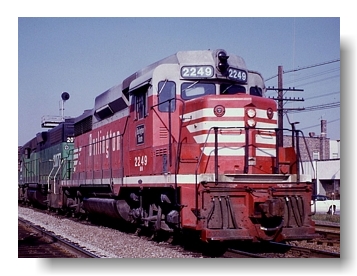 Photographer unknown
Brian Ambrose Collection
Other photos of the BN 2249 can be found on rrpicturearchives:
http://www.rrpicturearchives.net/locopicture.aspx?id=112423
In June 1989 the BN 2249 was rebuilt by EMD to GP39E 2756. An early assignment was at Springfield, MO so again, I never got the chance to see it as the BN 2756 out west.
My chance finally came on 10-29-96, nearly a year after the BNSF merger when the BN 2756 led a southbound freight out of Seattle, WA.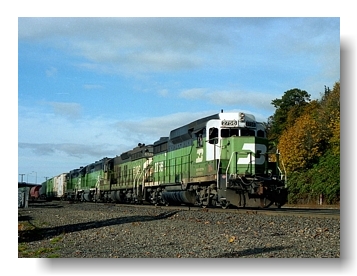 Sometime after this the BN 2756 was renumbered to BNSF 2746 and the latest photos of it in late 2015 have it working in Oklahoma, and still in the BN Whiteface scheme. No fresh paint for this one yet.