You are here: Home > Chicago, Burlington and Quincy Section > BN 2244
BN 2244
BN 2244 was built as the CB&Q 967 in July of 1962.
I found this nice photo of the Q 967 on rrpicturearchives from 1965.
http://www.rrpicturearchives.net/showPicture.aspx?id=1526545
After the BN merger the CB7Q 967 was renumbered BN 2244 and was assigned to Lincoln, NE.
The 2244 was one of the ex-Q GP30's I never got to see or photograph. Kevin Piper does have a photo of the BN 2244 in his collection he has allowed me to share. Photo taken at Minneapolis, MN by E. L Kanak 3-15-75.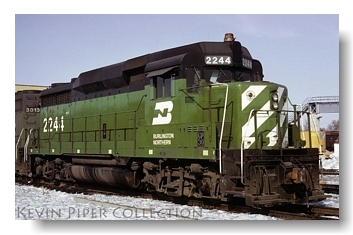 Kevin Piper collection
The story of the 2244 after that 1975 photo was rather uneventful. Twelve more years passed and then the GP30 was retired by BN 4/87 and it was scrapped in August that same year.