You are here: Home > Chicago, Burlington and Quincy Section > BN 2231
BN 2231
BN 2231 was built as CB&Q GP30 954 in May 1962, one of the first 30 GP30's that the CB&Q ordered numbered 940-969.
After the BN merger the Q 954 was renumbered to BN 2231.
I saw very few GP30's right after the BN merger in the Seattle area. It was mostly GP35's that were assigned to Interbay. By 1972 BN GP30's 2200-2203, 2211, 2217-2232 were reassigned to Interbay so that was when they were seen almost daily in the Seattle area.
My notes say I first saw the 2231 on 7-19-72 at Auburn, WA on northbound BN #138 with units 2231/2514/WP 3526/6403 (GP30/GP35/GP40/SD45) The 2231 was the only one in BN green, the 2514 in ex-GN orange and green and the 6403 in ex-NP paint. So it looks like the 2231 got BN green paint pretty early on.
My first photo of the 2231 was taken 11-10-78 at Interbay.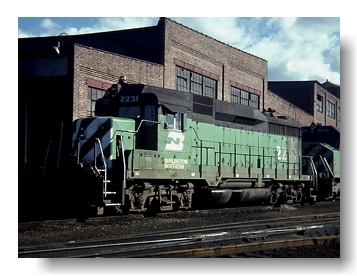 And my second photo also at Interbay 8-18-80 shows the other side.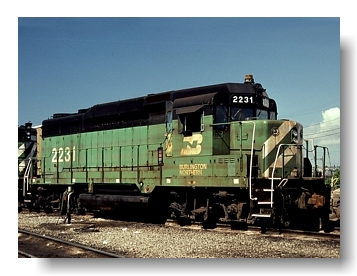 On 1-10-81 I photographed the BN 2231 again at Interbay in the company of two other ex-CB&Q GP30's, the 2220 and 2228 built from the same order as the 2231.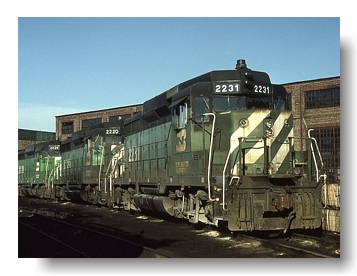 And it should also be noted that the 2231 still had it's CB&Q mars lights intact between the number boards at this late date, plus has a yellow warning flasher on the cab roof.
On 4-25-85 the 2231 was leading a local freight at Naismith, MT when it and another train led by GP30 2208 struck head on. It was a slow speed collision but enough damage resulting in the 2231 being scrapped by BN in July of 1985.