You are here: Home > Burlington Northern Section > BN 5757
BN 5757
BN 5757 is a GE U33C and was built in September of 1971.
During 1971 BN purchased two batches of GE U33C's for general freight service, the first batch of ten were actually ordered by the CB&Q but were delivered as BN 5725-5734 in early 1971. The second batch of twenty nine came after and were numbered 5735-5763. After delivery the 5735-5763 were assigned to Livingston, MT for maintenance. In deciding what to use for the April 16 update, which not only being Easter Sunday this year, it is also my birthday, I went back to the Easton OS record books. In looking at 04-16-72 I saw BN U33C 5757 had passed through Easton that day so now I had my subject.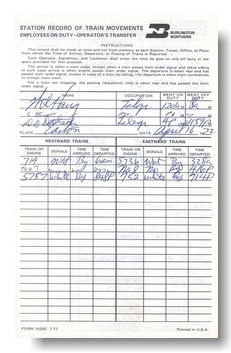 What turned out to be more ironic is in looking at other notes, I was at Easton 4-16-72! I saw Amtrak #8 pass through at 4:16 PM with units 9766/9721/9739/9778 but did not stick around for the BN 752 East or the 5757 West. Too bad, would have been nice to have seen the 5757 on my birthday.
It did take me awhile to finally see the 5757 and that came on 7-22-73 while up at Interbay. I noted the 5757/C&S 900/C&S 880 (U33C/SD40-2/SD40) together at the engine facility.
I got my one and only photo of the BN 5757 on 5-25-79 at Interbay.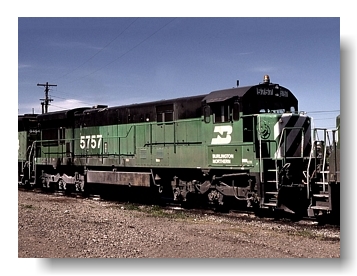 It looks pretty well worn in that photo. In the early 1980's the U33C's were stored across the BN system along with other older power. By the middle of 1986, after 15 years of service all of the U33C's were retired by BN and the 5757 was soon sold and scrapped.