You are here: Home > Burlington Northern Section > BN 5903
BN 5903
BN 5903 is a 3000 HP U30C built by GE in December 1972 as BN 5356, part of an order numbered 5335-5364 for use in coal train service. In 10/73 units 5353-5364 were renumbered 5900-5911 as Locotrol Remotes with the 5356 going to 5903.
First time I saw the 5903 it was not on a coal train but leading eastbound grain empty XO-8 at Easton, WA on the Stampede Pass line 2-10-81.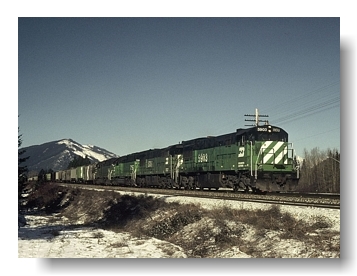 The train was stopped at Easton so I took this roster shot of the 5903.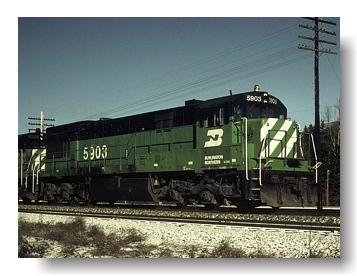 The 5903 lasted nine more years until it was retired in April of 1990 sold to Motive Power Services of Spokane and scrapped.