You are here: Home > Burlington Northern Section > BN 318
BN 318
BN SW1500 318 was built by EMD in January 1973.
The 318 was one of 15 SW1500's numbered 310-324, all built in January of 1973. The SW1500 has 1500 HP.
The 318 was assigned to Mississippi St in the Twin Cities Region after being delivered in 1973. The Burlington Northern Railroad in 1993 by Del Grosso shows it assigned to Northtown as of 12-31-93. In fact my one and only sighting of the 318 came on 7-15-93 at Northtown during the NPRHA convention when I photographed it working with the 319 in the yard.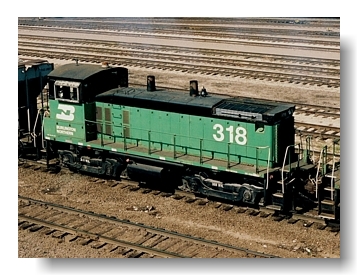 After the December 1996 BNSF merger the 318 was renumbered to BNSF 3464 on 10-15-99. It remains in operation today in Minot, ND as an RCL yard switcher. And the BNSF 3464 still wears BN green paint. Here is a nice photo of it from rrpicturearchives by Todd Harms at Sioux City, IA on 11-17-11 before the 3464 moved on to Minot.
http://www.rrpicturearchives.net/showPicture.aspx?id=2819964
Don't know if it will ever get BNSF orange and black paint but have to admit it is nice knowing we still have this BN green switcher in service today.