You are here: Home > Burlington Northern Section > BN 427
BN 427
BN 427 was built by EMD in January of 1971 as the first of eight SW1000's numbered 427-435.
After delivery BN 427 was assigned to Vancouver, WA for maintenance along with a number of other SW1000's from the same order.
First time I saw the 427 was on 11-26-71 during a trip to Portland, OR, but no photos.
Much later on a trip to Pasco, WA I photographed a hump set with the 427/6116 (SW1000/SD9)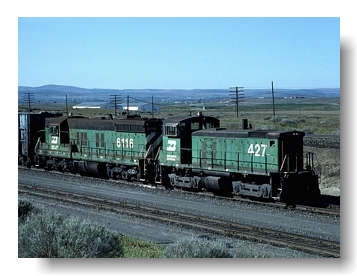 Closer look at SW1000 427 at Pasco, WA 4-19-87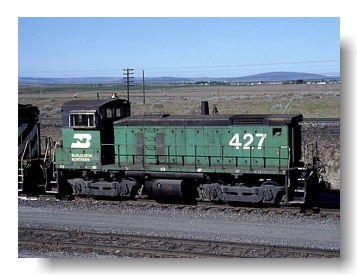 After the BNSF merger the 427 was renumbered BNSF 3620 in June of 1998 and continued to work in the Northwest. This photo taken 8-6-98 shows it moving north through Seattle, WA, probably for servicing at Interbay.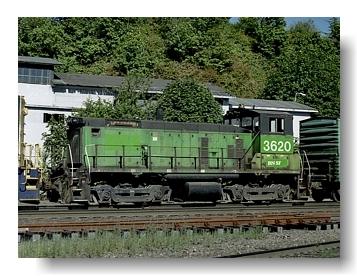 The 3620 was never repainted after the BNSF merger but kept BN green paint up to August 2009 when it was retired The 3620 was later sold to GATX who painted it blue and renumbered it GMTX 83. The last photos I have seen show it working at Alton, IL:
http://www.rrpicturearchives.net/LocoPicture.aspx?id=132441