You are here: Home > Burlington Northern Section > BN 383
BN 383
BN 383 is an EMD 1000 HP SW1000 built in February of 1972. It was first assigned to Auburn, WA for maintenance after delivery, Auburn being an ex-NP facility.
On 5-11-74 BN had an open house at Auburn, WA which I attended. Among the units on display and open for viewing was the 383. After Auburn closed in the early 1980's the 383 was reassigned to Interbay.
One of its switching assignments over the years during the 1990's was the Rabanco Garbage facility in Seattle. Here it brings a garbage train to Argo on 7-31-92 that will be taken south later.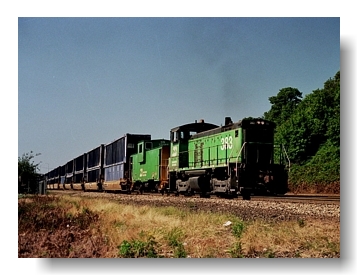 And a roster view of the 383 at Argo.
After the BNSF merger the BN 383 was renumbered BNSF 3608 and continued to work in the Seattle area for many more years, keeping the green BN paint. The BNSF 3608 was retired on 10-13-10 and sold to Progress Rail.
The 3608 was photographed by Joe Ferguson at Mayfield, KY 5-12-13.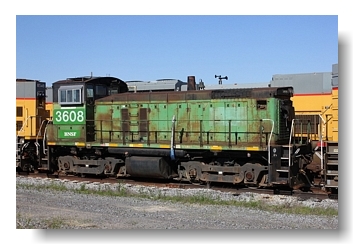 Photo by Joel Ferguson
Used with permission
On 11-3-13 Joel photographed the PRLX 3608 in primer at Paducah, KY. Looks like fresh paint will be next for the 3608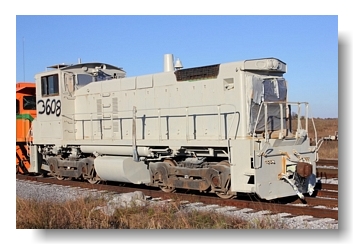 Photo by Joel Ferguson
Used with permission
Thanks for sharing the photos Joel! Guessing next time we see photos of the 3608 it will be in a new paint scheme.