You are here: Home > Burlington Northern Section > BN 9704
BN 9704
BN 9704 was part of a 141 unit order of SD70MAC's from EMD numbered 9572 to 9712 built in 1995. The 9704 came out of EMD in December 1995 and saw mainly coal train service soon after it was delivered to the BN, and just in time for the BNSF merger.
This photo of the BN 9704 found on rrpicturearchives shows it still in BN lettering in 2005, well after the BNSF merger.
http://www.rrpicturearchives.net/showPicture.aspx?id=300567
The last photo of the BN 9704 I could find was taken on 10-21-07. The first photo of the relettered BNSF 9704 I found was taken 2-1-2008 so that gives a pretty good idea of when it became BNSF 9704. It kept the BN's Grinstein paint but the BN emblems were removed with BNSF lettering applied to the cab sides but leaving the nose area blank.
Most of the SD70MAC's have been in and out of storage but it appears the 9704 is one of the lucky ones still in service.
This past week on 7-25-16 I photographed the BNSF 9704 at South Seattle, WA on my way home from work 7-25-16.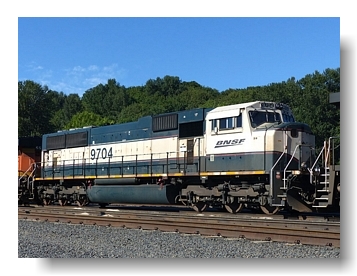 It had come into Seattle on a Z train which is quite a step up from its days of hauling coal. And nice to see it still wearing BN's Grinstein paint, a little worn but in pretty good shape considering 21 years of use.