You are here: Home > Burlington Northern Section > BN 9604
BN 9604
In 1995-1996 BN placed a large order for 141 EMD SD70MAC's numbered 9572-9712.
BN 9604 was one of this order built in May 1995 with serial number 946565-33.
It was assigned to Alliance, NE and worked mostly in coal service. Photos of the BN 9604 can be found here on rrpicturearchives:
http://www.rrpicturearchives.net/LocoPicture.aspx?id=21813
Another nice photo of the 9604 on trainpix:
http://archive.trainpix.com/BN/EMDORIG/SD70MAC/9604.HTM
After the 1996 BNSF merger the BN 9604 was relettered to BNSF 9604.
The BN emblems were removed and replaced with BNSF under the cab windows while the nose area was left blank.
I photographed the BNSF 9604 parked in Seattle 8-18-15 on the head end of an oil train.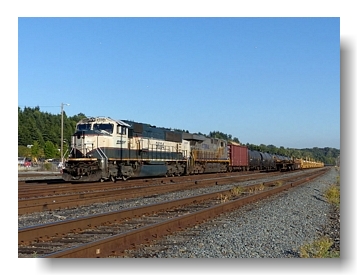 And a closer roster view showing it is a bit worn but still in decent original BN paint.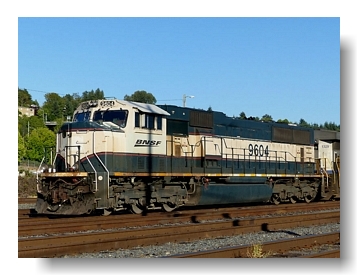 While it can probably still be found on coal trains, right now it appears to be in general service, but at least it is not stored.