You are here: Home > Burlington Northern Section > BN 9573
BN 9573
BN 9573 is a 4000 HP EMD SD70MAC built in March of 1995. It was delivered in the Grinstein colors of dark green and cream and worked mainly pulling coal trains out of the Powder River Basin.
First time I recall seeing the 9573 was well after the BNSF merger on 4-19-13 at Rapids, MT heading west on a general merchandise freight on the MRL.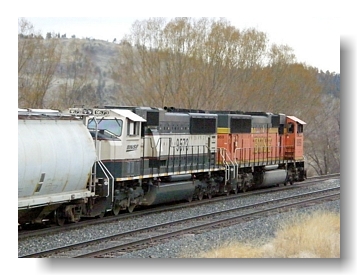 The BN markings had long ago been painted out with a BNSF added to the cab sides. The BN emblem on the nose was also removed and it still lacks any markings on the front, making it look rather plain. As of late 2014, the locomotive is still in the BN Grinstein paint scheme.