You are here: Home > Burlington Northern Section > BN 9510
BN 9510
On 8-27-13 I photographed a westbound BNSF coal train near Pasco, WA at Glade with BNSF SD70MAC 9510 the third unit.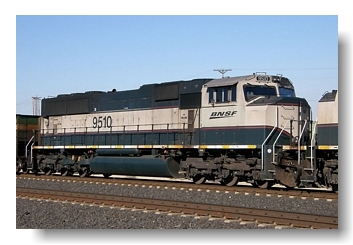 This 4000 HP SD70MAC was built by EMD as the BN 9510 in October of 1994 with builder number 936445-32 making it the 32nd unit of the order. Delivered in the paint scheme shown above it has used primarily in coal train service ever since. I do not have any photos of the BN 9510 myself but Jim Matuska did have this one taken at Crawford, NE from 1993 and has allowed it to be shown here.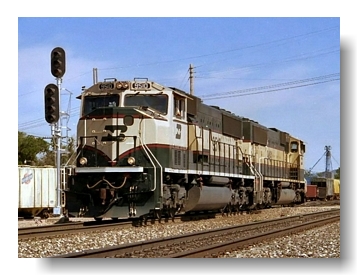 Photo by Jim Matuska used with permission
After the BNSF merger the 9510 was relettered for BNSF with the BN emblems removed. As of 2013 it has kept the Grinstein paint scheme with a small BNSF swoosh on the cab sides. Time will tell if the BNSF 9510 will ever see the BNSF current orange and black swoosh paint but for now it looks pretty good in the colors it has worn since 1994.