You are here: Home > Burlington Northern Section > BN 9406
BN 9406
BN SD70MAC 9406 was built by EMD in December of 1993 in a group numbered 9400-9474 of new SD70MAC's delivered in the new "Executive" paint scheme and after delivery went directly into coal train service.
Just a few years after these new SD70MAC's entered service the BNSF merger occurred in late 1995. The 9406 remained BN for several years after and I caught it leading a westbound coal empty at Antelope, MN on 7-15-06 headed back to the coal fields.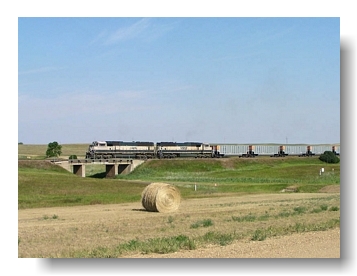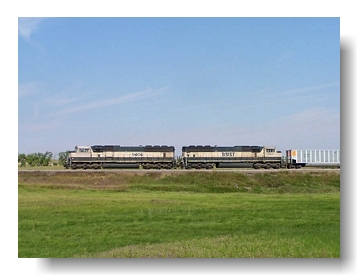 By August of 2008 the 9406 finally got BNSF markings on the cab sides. As of 2014 the BNSF 9406 remains in "Executive" paint but it may also be in storage as of this writing.