You are here: Home > Burlington Northern Section > BN 9218
BN 9218
Over the long Labor Day weekend I made a trip out to the MRL and on Saturday afternoon 9-3-11 caught up to an H-PASGAL on the Funnel at Algoma, ID photographing the second unit, BNSF 8118 which is the ex-BN 9218.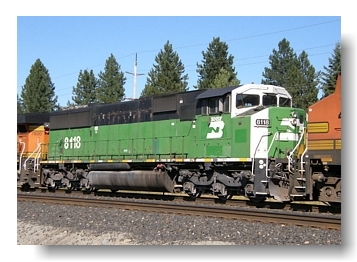 An EMD SD60M the 9218 is one of 50 purchased for coal service and assigned to Glendive, MT when built in January of 1990. I first photographed the BN 9218 on 7-13-95 at Forsyth, MT while on my way to Glendive, MT for the NPRHA convention.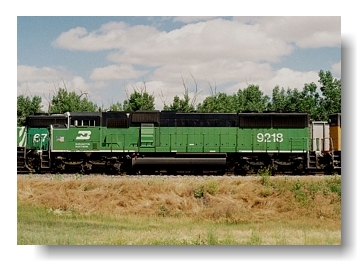 After the BNSF merger the unit was relettered for BNSF but kept the 9218 number. LocoPhotos states it was relettered BNSF on 2-6-06. I saw the BNSF 9218 leading an eastbound coal empty over the former NP's Providence Hill on 4-23-06, just a few months after showing the new BNSF lettering.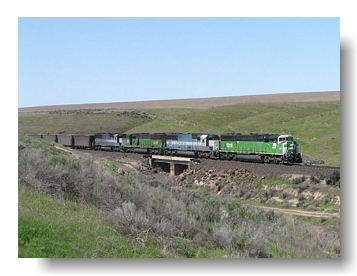 On a summer 2006 trip across Montana and North Dakota I photographed the BNSF 9218 again, this time at Glendive on 7-13-06 heading out of town eastbound on a helper set, 11 years to the day after first photographing it at Forsyth as the BN 9218.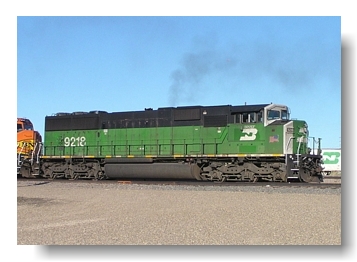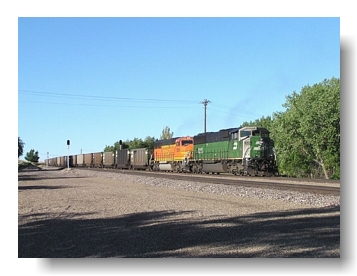 With new BNSF GE's being delivered in the 9200 series the BNSF 9218 was renumbered to BNSF 8118 and as can be seen by the photo at Algoma, it is still in BN green and looks pretty good!