You are here: Home > Burlington Northern Section > BN 6514
BN 6514
BN 6514 was built by EMD in June of 1971 in a series of BN SD45's numbered 6498-6542. They were all assigned to Havre, MT.
First time I saw the 6514 was on 7-1-72 leaving Auburn, WA eastbound on train #174 with units 6507/6514/714/758/1627 (SD45/SD45/F7A/F7A/GP7).
The train was headed towards Stampede Pass on the ex-NP.
My first photo of the 6514 was at Interbay 11-13-78. Note the extra cab windows, a feature most NP ordered power had, though these SD45's were ordered after the BN merger.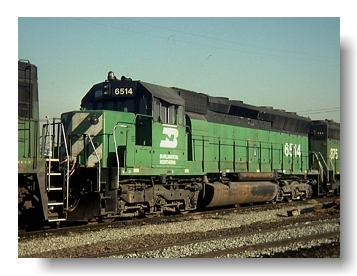 Keven Piper has a photo in his collection showing the BN 6514 leading Amtrak #8 at Essex, MT 8-1-79 and he has allowed its use here.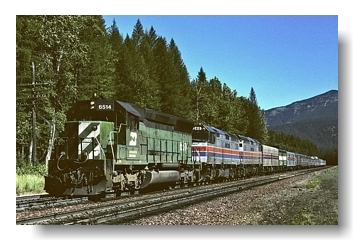 Kevin Piper collection
On 1-19-80 the 6514 was involved in a spectacular derailment near Ridgefield, WA when it and BN SD45 6467 slid down an embankment after a mudslide struck their train. The 6514 was rebuilt and is seen here at Interbay on 11-11-80.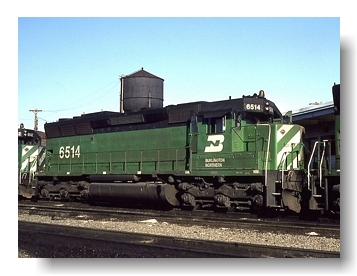 Rebuilt, repainted and the extra cab windows are gone and now sports a Winterization hatch on the roof.
I photographed the 6514 once more on 10-14-81 at Seattle, WA.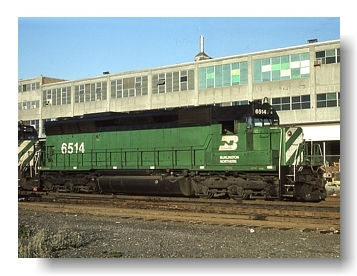 Most of the BN SD45 fleet was retired in 1986 and the 6514 was no exception. However it found a new home on the NYSW in early 1987 and first operated as the NYSW 6361 before it was repainted black and yellow and renumbered 3626. Some photos can be found here:
http://www.rrpicturearchives.net/locopicture.aspx?id=94803
The locomotive was sold to the MRL in September of 1993. It was eventually renumbered MRL 359 but kept the black and yellow paint. I photographed it at Glendive, MT on the BN 7-15-95 during the NP Historical Society Convention.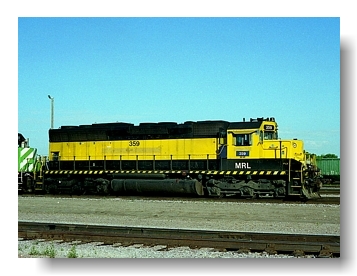 The MRL 359 also spent time on the IMRL as well as the MRL. It was apparently never painted into MRL blue. Info from the MRL Yahoo list has it listed for sale at Livingston 4/07 and being to Progress Rail 7/24/07. It departed Laurel for Chicago on 8-5-07 and eventual scrapping.