You are here: Home > Burlington Northern Section > BN 6507
BN 6507
BN SD45 6507 was built by EMD in June of 1971 as part of an order numbered 6498-6542.
After delivery all of these SD45's were assigned to Havre, MT and worked the transcontinental pool between Chicago and the Pacific Northwest.
I first saw the BN 6507 on 6-30-71 at Easton, WA leading the Cle Elum Turn eastbound with units 6507/6484/1841/1853/752 (SD45/SD45/GP9/GP9/F7A).
It should be noted that the second unit, SD45 6484 was wrecked and destroyed at Belton, MT a few months later on 9-18-71.
My first photo of the BN 6507 was taken on 6-1-77 but it was not on the BN. On that morning a UP northbound with BN 6507/5763/5717/6909 (SD45/U33C/U33C/SD40-2) arrived at Seattle and went south again later that evening. Here the BN power waits on the Wye pocket at Seattle's Argo Yard waiting to leave Seattle on another UP train.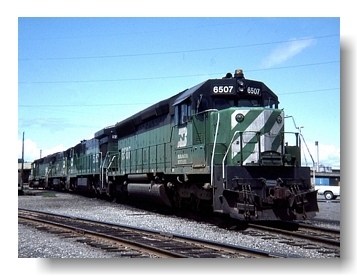 Three years later I photographed the 6507 at Auburn, WA 6-29-80 after it had led train #175 off of Stampede Pass earlier in the day. Here it sits in the ex-NP engine facility at Auburn.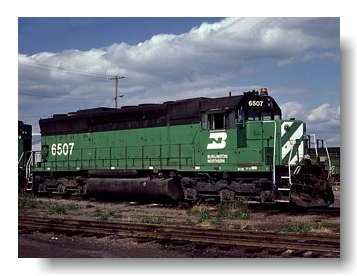 The next day I photographed the 6507 again leading a southbound grain train out of Auburn, WA with units 6507/8128 (SD45/SD40-2)
BN retired the 6507 in August of 1986 and it was eventually sold to Wisconsin Central 12/87 who patched it with WC reporting marks and put it to work. Some years later the SD45 was repainted into Wisconsin Central colors. Photos of it can be found here:
http://wc2scale.org/zenphoto/wc-motive-power/wc-6500-series-sd45-s/wc-6507-in-wc-paint/
Later it was renumbered to WC 7507 and photos of it can be found here:
http://www.railpictures.net/photo/101361/
http://wc2scale.org/zenphoto/wc-motive-power/wc-7500-series-sd45-s/wc-7507/
After CN took over the WC the SD45's started to leave the roster in 2007 with the 7507 being sold to NRE. There is no more info on the 7507 after it left the WC but chances are it was scrapped.