You are here: Home > Burlington Northern Section > BN 6367
BN 6367
BN SD40-2 6367 was originally built 2/74 as the C&S 919 from an order of 8 SD40-2's numbered for the C&S as 918-925. All 8 of these SD40-2's, delivered in BN green with C&S sublettering were assigned to Livingston, MT after delivery.
I first saw the C&S 919 on 4-2-74 when 2/77 came into Interbay with units 6561/C&S 919/C&S 914/668 (SD45/SD40-2/SD40-2/F7A).
On 6-21-78 I was at Skykomish and photographed westbound train #75 with units C&S 919/C&S 891/1770/6541 (SD40-2/U30C/GP9/SD45) come in off Stevens Pass.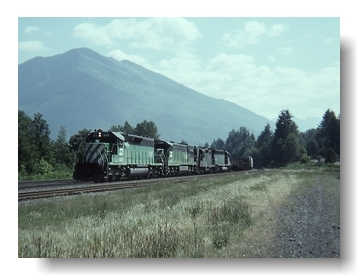 Later in the day I went to Interbay and took roster shots of the C&S 919.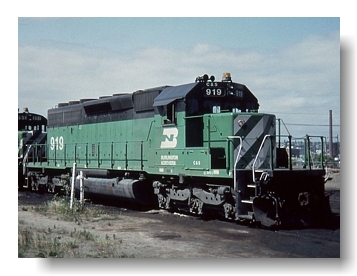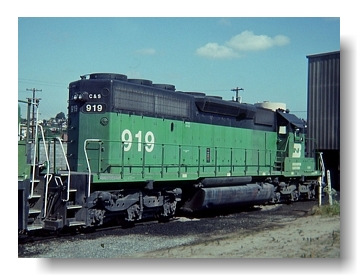 In 1979 the C&S 919 was renumbered to C&S 6367. It is possible the C&S 6367 never became the BN 6367 as the other C&S SD40-2's did as info shows the other C&S SD40-2's became BN units in 1982, and the 6367 did not last that long..
The 6367 was wrecked in a spectacular way on 2-10-80. Here is a description of what happened:
"On Feb 10, 1980 the BN had a wild runaway down Stevens Pass in Washington state. Westbound BN train #83 with BN 6367 leading had just entered the east portal of Cascade Tunnel about 2pm when the lead unit broke away severing all the airhoses. While the rest of the train behind stopped the SD40-2 kept on going. Handbrakes did not stop the unit so the crew bailed off. Apparently the unit had died as well. Speeds were estimated at 105mph coming out of the west portal and into Scenic. About a mile and a half further the unit failed to make a left hand curve and landed on its side, slid about 100 feet and flew over an embankment rolling down the hillside taking out trees along the way and landed nose first into the shoulder of US Highway 2"
I went up to the site the next day and photographed the 6367 nose first into the shoulder of US 2.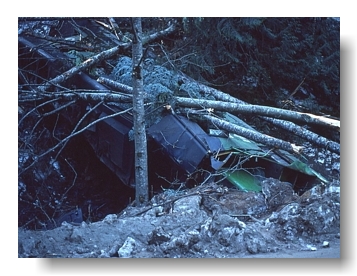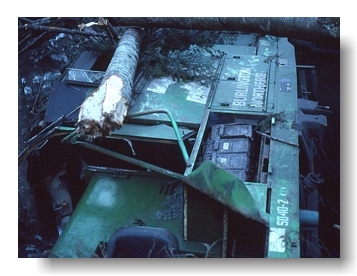 Soon after the 6367 was dug out and set on the side of US 2 with plans for it to be trucked out. I took these photos on 2-21-80 near Scenic along US 2.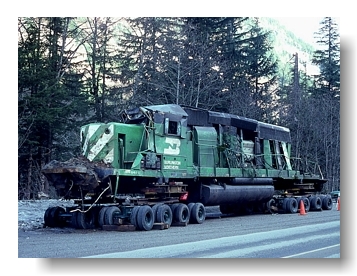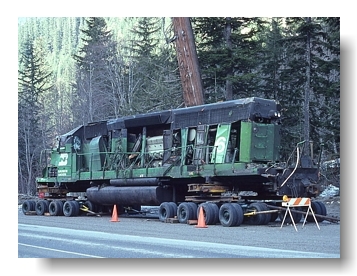 The 6367 was reported to have been scrapped by BN later in 1980.