You are here: Home > Burlington Northern Section > BN 6363
BN 6363
In early 1972 18 EMD SD40-2's were built for BN subsidiary C&S and numbered 900-917. They were used in system wide service on the BN being assigned to Livingston, MT and made it out to the Seattle area often.
Seven years later the eighteen were renumbered to C&S 6348-6365.
C&S 6363 was renumbered from C&S 915 in August of 1979.
I photographed the C&S 6363 at Interbay, WA 5-17-80 Note the "C&S" sublettering.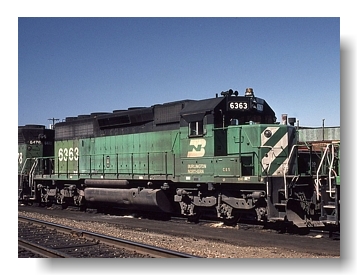 In January of 1982 the C&S was merged into the BN Railroad and the "C&S" was dropped and the C&S 6363 became the BN 6363. I photographed the 6363 leading train #3 through Seattle on 8-16-82 wearing a coat of fresh green paint.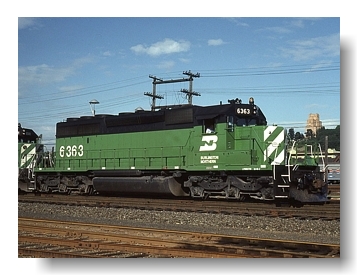 The BN 6363 was later repainted into the 1989 introduced whiteface scheme and was given the 2" pinstripe that came out in 1991 as well dating the repainting to 1991 or later.
In this photo the BN 6363 is leading northbound train #695 into Seattle on 8-25-93.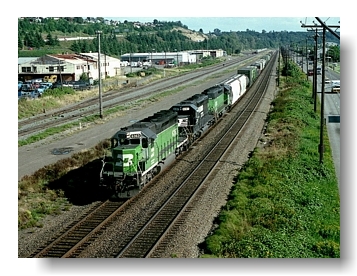 After the late 1996 BNSF merger the 6363 had the headlight relocated to the nose and ditchlights were added. The 6363 was photographed on 3-18-00 leading a westbound BNSF train on the MRL passing a semaphore on the ex-NP west of Thompson Falls, MT.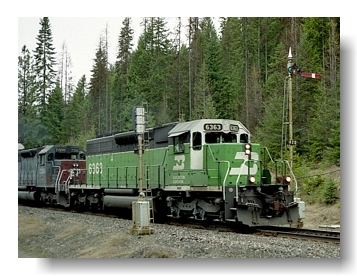 The 6363 lost it's BN identity on 6-14-05 when it was renumbered to BNSF 6363. With the ongoing delivery of BNSF GEVO's the 6363 has been renumbered to BNSF 1952. Last photos show it still in BN green paint but with large rooftop air conditioners added.