You are here: Home > Burlington Northern Section > BN 6349
BN 6349
The BN 6349 in this discussion is actually the second BN SD40-2 to carry this number.
The first BN 6349 was built in March 1973 with Locotrol and renumbered to BN 6809. I am unable to find the date it was renumbered to the 6809.
The second 6349 was built as Colorado and Southern SD40-2 901 in March 1972 and assigned to Livingston, MT.
I first saw the C&S 901 on 8-3-73 and my one and only photo of it was taken that same day. The 901 is seen in this photo of train #174 leaving East Auburn, WA in a consist of 5710/5759/1871/C&S 901/1728. (2 U33C/GP9/SD40-2/GP9)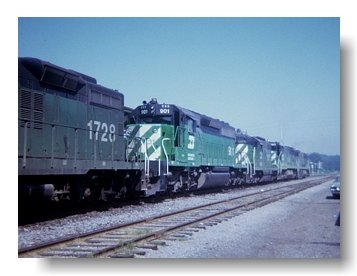 Searching online I have not been able to find any other photos of the C&S 901.
The C&S 901 was renumbered to C&S 6349 in August of 1979.
In January 1982 the C&S was dropped and it became BN 6349.
My first photos of the BN 6349 were taken on 3-2-89 at Seattle Stacy Street yard after a winter snowstorm. Note you can still see C&S lettering above the numberboards.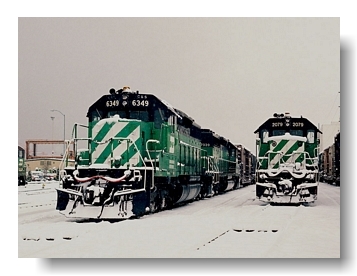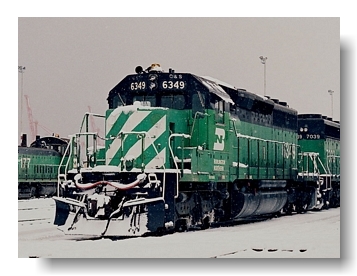 In this photo of BN 6349 taken at La Crosse, WI the C&S lettering is gone.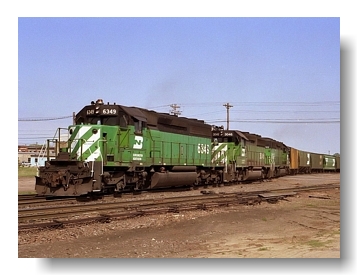 Photo by Jim Matuska
Used with Permission
After the BNSF merger the 6349 was renumbered to BNSF 6375 in February of 1999 and repainted.
Here the BNSF 6375 is leading a southbound at South Seattle on 5-14-00 in its new H1 paint.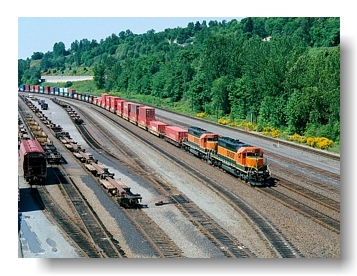 On 5-24-03 I saw the 6375 leading again at Hope, ID on the MRL, this time from a friends boat on Lake Pend Oreille.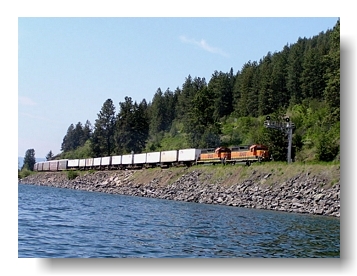 One last photo of the BNSF 6375 is by Jim Matuska at La Crosse, WI in 2005. Note how dirty the SD40-2 has gotten.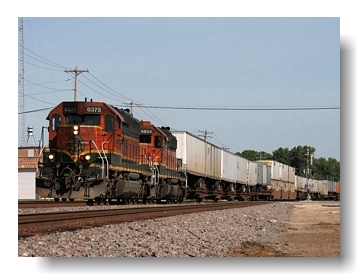 Photo by Jim Matuska
Used with Permission
On 7-9-09 the 6375 was renumbered to BNSF 1956 to make way for new GE ES44AC's the BNSF was purchasing. Last photo I have seen of the BNSF 1956 (ex-BNSF 6375, BN 6349, C&S 6349, C&S 901) was taken at Abilene, KS this past October. Still in HI but with those big white AC units on the cab roof. But it is still around at least.