You are here: Home > Burlington Northern Section > BN 8073
BN 8073
BN SD40-2 8073 was built by EMD in December of 1979.and was one of 43 SD40-2's ordered by the BN for 1979 delivery numbered 8031-8074 and intended for use in the general freight pool.
I first saw the 8073 at Interbay 2-23-81 in a power set of 8073/8109/6626 (SD40-2/SD40-2/F45).
On 9-16-87 I took a scenic photo of the BN 8073 leading an eastbound freight train on the ex-NP between Paradise and St Regis, MT. At that time this was still BN trackage before MRL would start up less than a few months later.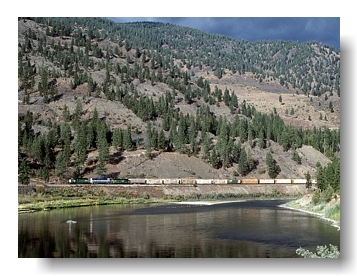 I have one more photo of the BN 8073 at Seattle 8-1-96.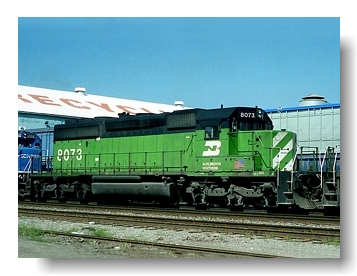 The 8073 was still on the BN roster at the time of the BNSF merger and was later relettered BNSF 8073 keeping its number. Photos of the BNSF 8073 can be found here:
http://www.rrpicturearchives.net/LocoPicture.aspx?id=34456
The 8073 also retained it's BN green paint up to the time BNSF placed it in storage and it was sold to HLCX after 2011 being relettered to HLCX 8073 and was quickly leased out to CSX. The last photos of the 8073 were from 2012, still on the CSX and still BN green. Photos can be found here:
http://www.rrpicturearchives.net/LocoPicture.aspx?id=159204
There is no further info on the 8073 after 2012 but if there is any I will add it to this update.
One last bit of personal info on the BN 8073. One of it's number boards was offered for sale last year so I purchased it and have it displayed in my home. Today, 1-29-17 I brought the number board with me as I photographed trains on the ex-NP on the BNSF's Stampede Pass line and took this photo of it in the snow near Easton, WA. So, the BN 8073 still lives on, even if just in a small way.