You are here: Home > Burlington Northern Section > BN 8009
BN 8009
BN 8009 was built by EMD in May of 1977 and was the last of a 10 unit SD40-2 order numbered 8000-8009. These 10 SD40-2's were intended for general freight service but could be used in coal service if needed.
I first saw the 8009 on 1-10-81 at Interbay, WA on a sunny winter day, but took no photos of it. I never did photograph the 8009 myself noted photographer Jim Matuska did at La Crosse, WI in 1986 and has given me permission to post that photo here.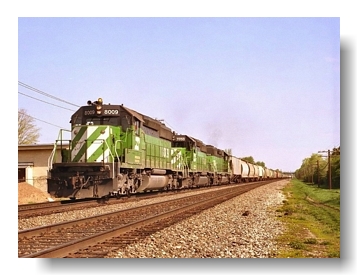 The story of the 8009 is a short one as it was destroyed in a head on collision near Ledger, MT on 8-30-91 and scrapped.