You are here: Home > Burlington Northern Section > BN 7857
BN 7857
It was on a trip to Montana in 1989 I first photographed BN SD40-2 7857 leading a westbound freight train on the MRL at Trout Creek, MT 6-5-89.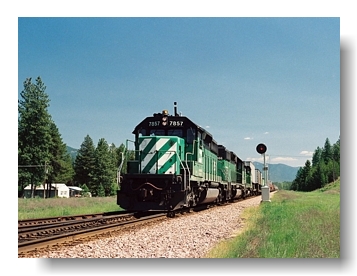 The 7857 was one of 13 SD40-2's built in late 1978 and numbered 7856-7868. All were sublettered C&S for bookkeeping purposes. C&S 7857 was delivered in standard BN green and white in October 1978 with a small C&S on the battery box doors.
I first saw the C&S 7857 on 5-17-80 at Interbay, WA.
On 12-31-81 the C&S was merged into the Burlington Northern and the sublettering dropped making the C&S 7857 now the BN 7857. The 7857 stayed in BN green and white with nose stripes up to the 1996 BNSF merger as shown by my photograph of it at Trout Creek in June 1996.
The 7857 remained in BN green until it was painted into BNSF's H1 in January 2000 and lettered BNSF 7857.
On 7-30-05 Jim Matuska caught the BNSF 7857 leading a stack train at La Crosse, WI.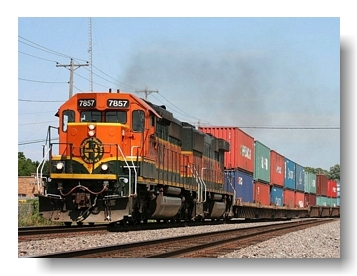 Photo by Jim Matuska used with permission
A few years later I saw the BNSF 7857 myself at Seattle's Stacy Street yard 9-6-07.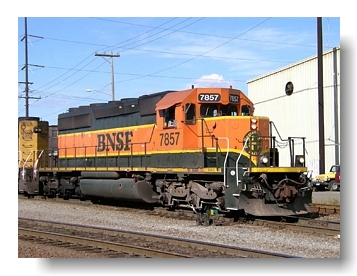 On 1-12-10 the BNSF 7857 was retired and sent to HLCX where all BNSF markings were painted out and it went into their lease fleet still in H1 paint but with HLCX markings. Later that year Edward Sanicky photographed the HLCX 7857 at Rochester, PA on the NS 12-29-10.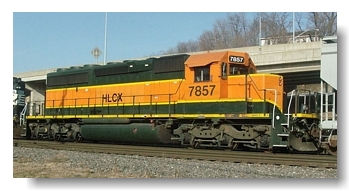 Photo by Edward Sanicky and used with permission
The most recent photos of the HLCX 7857 I have been able to find were from April 2012 on the CSX. It'll be interesting to see if it makes it into 2013 and beyond.