You are here: Home > Burlington Northern Section > BN 7850
BN 7850
This SD40-2 was actually built as the C&S 7850. It was part of a group built in 1978 numbered 7832-7855. These SD40-2's were sublettered C&S for bookkeeping purposes.
C&S 7850 was delivered in July 1978 wearing standard BN green and white with a small C&S on the battery box doors and saw service on BN's numerous coal trains.
The C&S sublettering was dropped in January 1982 and BN 7850 becoming the reporting marks.
I photographed the BN 7850 twice in 1996. First was at Auburn, WA on 3-2-96.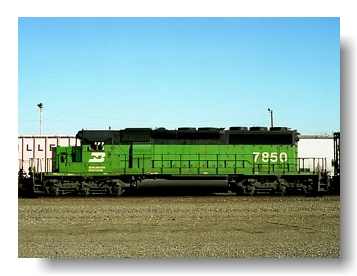 Then once again at Interbay, WA 5-31-96. Note Alliance is shown as it's last maintenance base.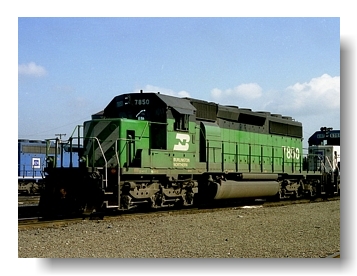 The 7850 stayed in BN green and white with nose stripes up to the 1996 BNSF merger with BNSF lettering added in May 2002.
BNSF retired the 7850 in 2008 and it was sold to Helm Leasing on 11-18-08, still in BN green paint. The only change was the BNSF lettering to HLCX. Helm leased out the 7850 until it was scrapped at Miland Metals in March 2013, still in BN green to the end.