You are here: Home > Burlington Northern Section > BN 7102
BN 7102
BN SD40-2 7102 was built by EMD in November of 1978 as part of a 51 unit order numbered 7075-7125. These 51 SD40-2's were used in both coal and general service.
I first saw the BN 7102 on the same day as my first and only photo of it at Easton, WA on 2-10-81. The train was westbound GB2 (grain loads) with units 7213/5721/7102/844 (SD40-2/U33C/SD40-2/F9A) up front. I roster shot the two year old SD40-2 as it passed by westbound.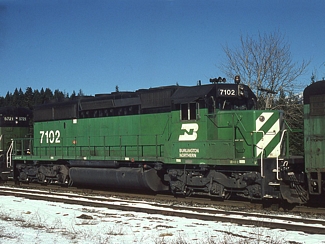 The assignment stencil on the side sill appears to say Lincoln.
The BN 7102 was still on the roster at the time of the BNSF merger but was not relettered or repainted for BNSF as the entire 51 unit SD40-2 order was returned to the lessor during 1999 and the BN 7102 quickly relettered HLCX 7102 in December 1999.
Next the 7102 went to CEFX keeping the same number and BN green paint (with nose stripes) into 2002. Less than a year later it was renumbered CEFX 3175 and painted blue.
It has been leased to CSX pretty much ever since with many photos on rrpicturearchives up to 2015. Many nice photos of it but I really like this one from 8-25-15 at Philadelphia, PA:
http://www.rrpicturearchives.net/showPicture.aspx?id=4420440
I'll be curious to know if the former BN 7102 is still on the CSX now.