You are here: Home > Burlington Northern Section > BN 6916
BN 6916
This SD40-2 was built in early 1972 as the BN 6339, the last of a new order numbered 6325-6339 all assigned to Livingston, MT. I first saw the 6339 at Auburn, WA 6-24-72. The 6339 was later renumbered to BN 6916 and I first saw it as the 6916 on 5-1-74 at Interbay. At that time it was still assigned to Livingston, MT.
In September of 1974 I was up at Interbay during the late shift and got a chance to hostle the 6916 in the locomotive facility from one track to another under the supervision of the hostler helper. It was the only SD40-2 I ever got the chance to run which makes it kind of special to me.
My first photo of the BN 6916 came on 8-7-86 at Argo in Seattle as trailing unit of a southbound freight.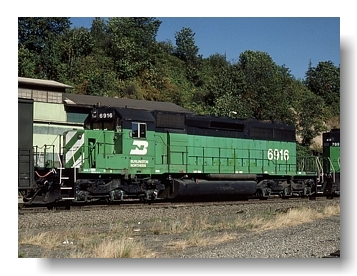 Four years later on 6-28-90 I caught it again in Seattle but photographed the other side of it.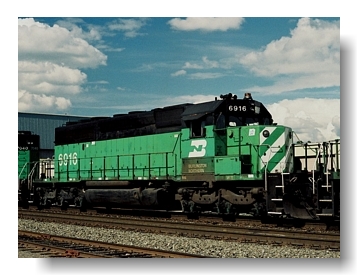 In 1992 on a trip to the MRL I photographed it leading a westbound BN freight towards Kootenai, ID on 10-23-92.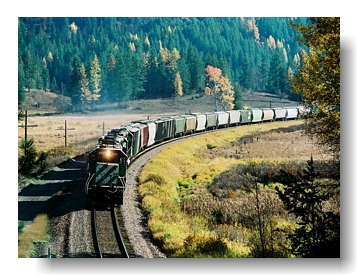 After the BNSF merger the BN 6916 was relettered BNSF 6916 on 6-24-01 and kept the BN paint. Though I have no photos of the BNSF 6916 there are some on rrpicturearchives. This one was taken at Randall, MN in 2008.
http://www.rrpicturearchives.net/showPicture.aspx?id=1379232
On 3-24-11 the BNSF 6916 was renumbered to BNSF 1922 to make room for new GE ES44C4 in that number series. As of December 2015 the BNSF 1922 seems to be working around Wisconsin and is still in BN green, though looks pretty tattered and worn.
http://www.rrpicturearchives.net/showPicture.aspx?id=4387873
Will it get new BNSF orange and black? Always a possibility.